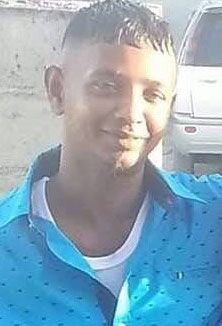 The family of Navishwar Karamdatt, the fisherman who is missing and feared dead after he fell overboard from a vessel he was working on one week ago, remains hopeful that he survived  but is not satisfied with the manner in which the matter is being dealt with.
"The last thing we heard is a search is still going on but we don't know and we don't have any information about who searching or anything like that so I can't say anything much we are just hoping and praying for the best," Karamdatt's wife, Kavita (only name given) yesterday told Stabroek News.
She said that the family is trying to stay positive and convince themselves that Karamdatt was rescued by someone and is still alive somewhere out there. "We are hoping he would be back home," Kavita said.
The incident is reported to have occurred around 10 am last Wednesday while the crew of five men were working some 100 miles out at sea.
Karamdatt, also known as 'Sharma,' a resident of Diamond Housing Scheme, East Bank Demerara and the other crew member was working with Pritipaul Singh Investment Inc.
The crew was captioned by Chrishnadat Sukhdeo, called 'Panther,' 24, of Lot 1123 17th Street, Diamond Housing Scheme. The other crew members have been identified as Jonathan DeFreitas, 23, Vidprikash Sukhdeo, 17, and Pritviraj Seewnarine, 34, all of Diamond, East Bank Demerara.
Stabroek News was previously informed that the men departed the Pritipaul Singh Wharf on December 3rd for a three-week voyage on the 'MV Snook 1'. They were expected to return on Sunday 23rd December in time to spend Christmas with their families.
Reports are that around 9.30 pm last Friday, the Chief Executive Officer (CEO) of Pritipaul Singh Investment Inc reported that he received a call from Sukhdeo, who informed him that one of his crew members was missing.
The CEO then reportedly instructed the captain to return to the wharf.
Around 5.50 am Saturday, the vessel arrived at the Houston wharf and the crew members were detained for questioning. They were subsequently released.
During the questioning, Sukhdeo reportedly told the police that last Wednesday he was piloting the vessel when he heard one of the crew members shouting, "Man overboard! Man overboard!"
Upon checking, he said he saw Karamdatt some distance away in the water.
As a result, he said that he immediately turned around the vessel but they were unable to get to Karamdatt before he disappeared in the water.
Several CCTV cameras are mounted on the vessel and they captured Karamdatt's fall.
In the footage seen by this newspaper, Karamdatt was at the rear of the vessel with another crew member when the vessel began to sway from side to side amidst strong waves.
Karamdatt can be seen falling on the deck and sliding through the railing into the water. The other crew member, who also slipped but managed to hold on, subsequently stands and then after spotting Karamdatt, he goes off camera, seemingly to alert the other members of the crew.
Karamdatt's mother-in-law, Nanda Seewnarine told Stabroek News that her son, Pritviraj Seewnarine was also a part of the crew.
She said the family learnt of the incident after Pritviraj called a relative and asked them to pass the message onto Kavita. "When he (Pritviraj) call, he didn't call us exact, he call a relative just at the back of us to come and give us the news. He say that Sharma fall off the boat and they looking for him and they didn't finding him," Seewnarine recalled.
 "He said after he (Karamdatt) fell over, the captain turn back the boat when they see he in the water, they turn back the boat and try to get to him but they didn't get to him because of the wave and the breeze and everything,", she added.
She said Pritviraj told them that they searched some two to three hours without no result and were later ordered to return to the wharf.
Not satisfied
"It hurts a lot …..we are not satisfied with what's going on because today is eight days and up to now we can't find me poor son-in-law. And we are not getting no satisfaction whatever from nobody," Seewnarine said while adding "We trying to put a faith that you know none of them aint find he but maybe somebody else find him and you know we trying to build faith you know, we not giving up".
After receiving the call, she explained that she along with Kavita and other relatives went to the office to meet with the owner but to date they haven't been able to. "Five of us went there, we couldn't see Mr Pritipaul, I don't know, I was vex…….we couldn't get to talk to him. We get to reach some guy them call Panday, he is the CEO and he give us a long rundown that they are looking," she related.
Following this visit, she noted that they have made several others but are continuously being told that a search is ongoing.
 "Monday morning we were there again and is the same long story wah he seh, he seh they still searching which in to my heart I know they not searching. So he seh he cannot tell us anything positive now until the people them call off the search when they are satisfied that they didn't see him anywhere," Seewnarine explained.
The last time they visited the office, Seewnarine said was on Tuesday to meet with Pritipaul but again they were unable to.
Seewnarine said the family doesn't know what to tell Karamdatt's only child who is seven-years-old and keeps asking for him. "He know if he doesn't see him before he go to bed when he wake up 23rd (Sunday) he will see him. The child just keep talking that he father will be home so I don't know what answer we will give him," she said.
Karamdatt has been working at sea for about 15 years. He doesn't know to swim.
The Ministry of Labour and the Maritime Administration Department (MARAD) have since intervened and are currently investigating the matter.
Around the Web