Christmas time in Guyana is like no other; this is the time of year when Guyanese make the most purchases.
Shoppers come out in their numbers to snatch the numerous deals offered by retailers, while simultaneously, the streets of Georgetown become packed with new vendors, who come out to take advantage of the escalated demand.
This Christmas season, Georgetown's commercial hub, Regent Street, has been lined with an increasing number of shoppers daily. Persons can be seen walking from one store to the other to take advantage of the deals and discounts being offered for the period.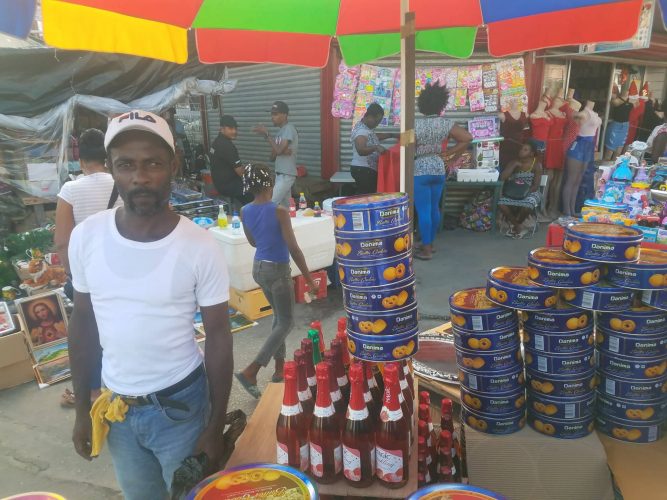 One excited shopper, who identified herself as Miss Pam, stopped at a stall along Regent Street to enquire about the prices of various bathmats that were being sold. She explained that the prices for household items are usually reduced during the Christmas season.
Miss Pam, whose hands were filled with bags as she was finishing her shopping for the day, said, "I love the Christmas shopping, this is like a tradition for me now; every year I come out to see what goodies I can get at a good bargain you know".
"Christmas for me now is all about spending time with my family and so on. Gifts and so is for the children now but I love spending the time with my whole family; that is what I enjoy for the Christmas", she added, appearing happy that she had gotten most of what she was looking for.
Despite the obvious hustle and bustle, however, vendors have reported a slow start to the season's sales.
One vendor, Yvonne (only name given), set up shop on the pavement just outside of Burger King. The woman's small stand was packed with clocks, toys and household items like bath mats and paintings. Yvonne, who has been a vendor for about 20 years, said: "Business slow so far man, I expecting it to pick up though, maybe when people get pay then we gon see it pick up. Last year this time business was already moving fast but I don't know what happen now". The woman said that Christmas for her has always been about making extra money so she can enjoy the season with her family.
Deneeze Austin, who makes artificial floral arrangements, shared the same sentiments as Yvonne, stating, "Well its very bad, things haven't picked up like what we're accustomed to having normally, or at least not yet. Things are very slow this year." Austin said that the floral arrangements seen on her stall are not only for Christmas décor but can be used all year round. "This is an all year something that can be put on your table, it depends on your curtain colour and how you want your centrepiece to look…Doing this (making arrangements) make me happy especially around Christmas time, for the past four Christmases I have been doing orders only but this year I just felt like coming out back this Christmas," she stated. Austin said that her business is her Christmas tradition.
Right along King Street, a large display of wall clocks and paintings can be seen. The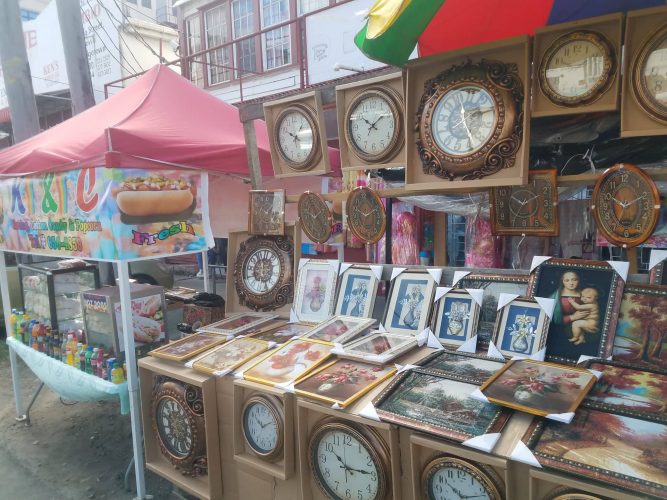 vendor, who identified himself as Mark, said that he has been vending for about 10 years. "I've been selling a little while now, approximately about 10 years now. This is my normal spot that I does sell every Christmas," he related.
Mark stated that business has been good so far for him but stated that he expects it to pick up as Christmas Day draws closer. "Well normally the true meaning of Christmas is celebrating the birth of Christ right, so that's mostly what I does be looking forward for but remember at the end of the day you got to get money to make ends meet so I does come out to do my thing but my true tradition and what I does be looking forward to is celebrating the birth of Christ. Once I give God praise and thanks for being born and coming on the earth so that he could save us, I good," Mark said. 
An item which has become a Christmas staple for Guyanese during the season is Danish Cookies. One vendor is positioned at the corner of King and Regent streets with a stall well decorated with tins of Danish Cookies and non-alcoholic wine. The man, who identified himself as Oswald, told Stabroek News that he believes the cookies that he sells are a necessity in every Guyanese household for the Christmas season.
"Look how de cookies decorate you could know. Is something everybody does buy, especially round de Christmas time, you understand," Oswald said. The man said that he has been a vendor for about 13 years and that selling the cookies along with wine and walnuts has become the norm for him every year. "This is all wah I do pon a Christmas. Usually I does bring walnut and them kinda thing but this year me aint get all of that, the little that I have is how I'm out here," he further related.
Oswald too agreed that so far, business this Christmas season has been slow compared to last year.
Around the Web