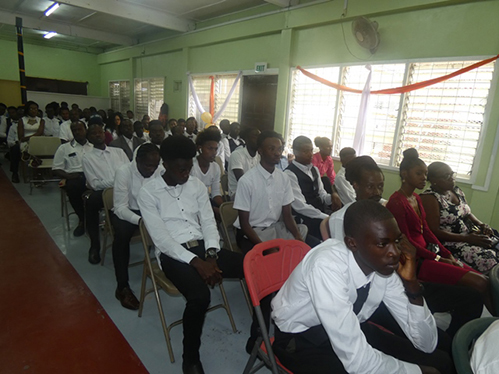 Some 176 youths from Region Ten on Thursday, received their certificates after completing various vocational courses through the Board of Industrial Training (BIT), National Training Project for Youth Empowerment (NTPYE).
According to a Department of Public Information (DPI) press release, the training was aimed at equipping them with the skills set needed which will in some way contribute to the development of the country. It particularly targeted youths who are not academically inclined and were unable to complete secondary school
The trainees are now certified in Heavy Duty Equipment, Electrical Installation, Garment Construction, Motor Vehicle Servicing and Welding & Fabrication. They were urged to maximise their potential and position themselves since Guyana, and specifically, the oil sector is anxiously awaiting their various skill sets. In the meanwhile, the youths have already benefited from employment at the Linden Electricity Incorporated, the Linden Sewing Institute, the Community Development Council and the Linden Technical Institute, among other places, the DPI release added.  
Technical Officer for Region Ten, Coleena Johnson, noted that some students came all the way from Malali, a community up the Demerara River and also from mining communities some distance away from Linden, to participate in the programme. Of all the courses, The Heavy Duty Equipment course was the most popular with the largest enrolment of 43 students. The overall pass rate for the courses was over 90 per cent.
Presenting the feature address to the graduates was Michael Turner, former Principal of the Linden Technical Institute who is also a prominent figure in Technical and Vocational Education and Training (TVET). He said that the graduation signals that technical and vocational training is the wave of the present and future of Guyana.
"Vocational training cannot be underestimated and will always be the means by which people will enable their country and their individual livelihood to make progress," the former principal was quoted as saying. He added that with students deserving second chances and being enrolled, it will have a positive social effect since more youths will be meaningfully occupied.
Giving the charge to the graduates was Pastor Selwyn Sills of Linden who first commended BIT for seeing the potential in Linden youths, which moved them to invest in the various programmes. 
Around the Web