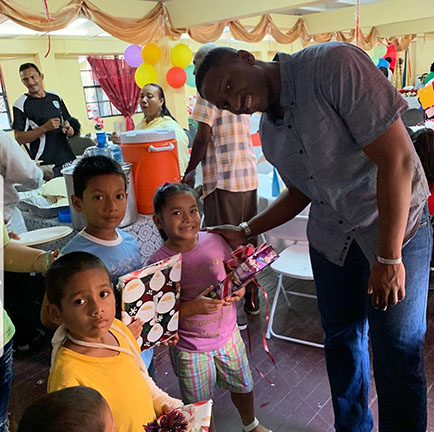 A young man's memories of Christmas in Guyana has encouraged him to add to the memories of the less fortunate through an annual toy drive that is now in its 8th year.
 Jared Jerrick, though not Guyanese by birth considers Guyana home, especially around the Christmas season. Spending the holidays with family and friends here and his commitment to providing service to others is what led to the distribution of countless presents over the years, an idea that was conceived among himself, his cousin Walter Roberts Jr. and friend Czerda Frank during his high school years.
The young man, who is now a serving member of the US Army, explained that they initially donated presents to a few orphanages in Georgetown for a few years but soon realized that such places are overrun with donations during the Christmas season.
As a result, Jerrick decided to hit the streets with his gift-giving, an idea which he pulled from a childhood memory of witnessing the distribution of same to children in the streets while visiting a cousin of his.
"It is a memory that I have lived with forever and hope that with this toy drive I can create the same memory for more little boys and girls all over Guyana," he explained.
Now the team takes an average 200-plus presents to children across Guyana with this year seeing them deliver more than 300 presents on Christmas Eve and Christmas Day to children in Bee Hive Paradise, Ann's Grove, Plaisance, and various other villages on the East Coast of Demerara.
Additionally, presents were donated to Aishalton Village in the South Rupununi, the Indigenous Residence in Georgetown, Tucville, Meadowbrook, and the Campbellville housing scheme.
Jerrick explained that not only did some children receive gifts but also cards written by the patrons of the first Inaugural Christmas Boozy Brunch Fundraiser held at the Herdmanston Lodge on the 23rd December 2018; Children also received cupcakes prepared by local cupcake queen Sarafina Edgehill.
"I would like to thank all those who continue to make this toy drive exceptional, especially, the donors and volunteers that continue to do the hard work behind the scenes year after year," he said.
 Some sponsors of this year's toy drive and fundraiser include Herdmanston Lodge, Executive Office Services, The Pandama Winery, David Persaud Investments Ltd, Maggie's Snackette, Desinco Trading LTD, Meditron, One Stop Hardware and General Store, and the Miss World Guyana Organisation.
Around the Web