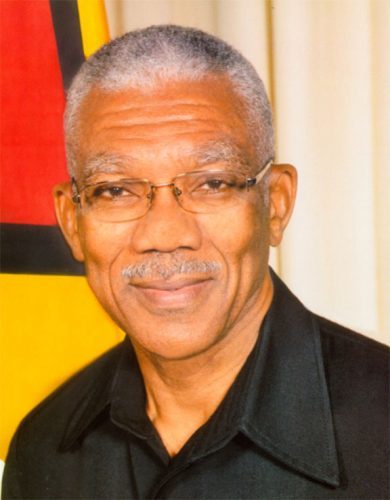 Minister of State Joseph Harmon yesterday dismissed the suggestion circulating in the public that President David Granger may not be the APNU+AFC presidential candidate for the upcoming general elections.
"I think we have an excellent candidate in the president," Harmon said when contacted yesterday.
The `yes' vote by government MP Charrandas Persaud in favour of an opposition PPP/C no- confidence motion has toppled the government which in accordance with the constitution will have to hold fresh elections in 90 days. The government has already accepted that the motion was successful. However it has since been announced that legal advice is being sought as it relates to the vote. The motion was successfully carried in favour of the opposition 33-32 at the end of the voting process.
Questions have been raised about the president's fitness to lead the country for another five-year given his health and continuous treatment which will end sometime in May, 2019. The president was last month diagnosed with Non-Hodgkin Lymphoma, a type of cancer and is currently in Cuba receiving a round of chemotherapy, his second for the month.
Harmon, when contacted, reminded Stabroek News that on Monday prior to his departure for Cuba, Granger chaired meetings of Cabinet and the National Security Committee (NSC).
"He's getting much better. I figure that by the time he gets back here, he will be in a position to resume his meetings," he said before also pointing out that the president is also scheduled to meet Opposition Leader Bharrat Jagdeo when he returns. Based on what was previously said, that meeting will take place in January.
"So, I think that we have an excellent candidate in the president. I am not aware that there is any intention of changing that for the time being. I am not aware of that," he added.
If Granger is to be the candidate, he will likely be pressed on his medical prognosis and whether he can be fit enough for the day to day requirements of the presidency. Were Granger not to be able to run, APNU and the AFC would have a challenging task to elect a successor.
Sources close to the PNCR are adamant that Granger will be the presidential candidate. One high-ranking official earlier this week acknowledged that the campaign may be too gruelling given his illness but said that supporters will have it no other way. The official insisted that choosing someone else will make the return of the PPP/C to office a certainty.
Prior to Granger's diagnosis he was visibly unwell and had lost a considerable amount of weight in a short period of time. It is expected that the presidential candidate will be on the campaign trail soon. It is not clear how frequently the president will be on the campaign trail given the fact that chemotherapy can leave patients severely weak.
After delaying its selection of a presidential candidate for months, the PPP will now barely have three months to introduce its choice to the wider public and give that person a chance to mobilise broad national support. That candidate would also face scrutiny and questions on their public record.
The PPP executive committee will meet on Thursday to begin the process of selecting the candidate. Party Leader  Jagdeo on Friday had said that the process may have to be fast tracked.
He did not definitively say if the candidate will be named before the end of the year as was originally anticipated.
Sources say that those being considered include Opposition Chief Whip and PPP executive member Gail Teixeira, former Attorney General Anil Nandlall, former Housing Minister Irfaan Ali and Dr. Frank Anthony.
Former parliamentarian Charles Ramson Jr was criticised by some in the party for publicly announcing his interest in being the party's presidential candidate. He however did not back down and has expressed this intention on several occasions. Ramson, an attorney by profession was a Parliamentarian but he resigned to pursue studies abroad. 
Jagdeo at a press conference on Monday said that it is unlikely that `newbies' without cabinet experience would be considered.
Around the Web