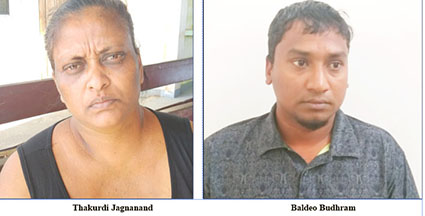 The police in Berbice are presently seeking legal advice on the matter in which, a Corentyne woman, in November, accused ranks attached to the Number 51 Police Station, of beating her and her son over an alleged theft.
After several weeks of seeking an update, a senior police officer would only divulge to this newspaper that advice is being sought on the matter.
Thakurdi Jagnanand, 54, of  Number 52 Village, Corentyne, had told this newspaper that in November, police at the station had detained her and her son, after a hire car driver accused her son of stealing his phone from the back seat of the car.
Jagnanand had visited the New Amsterdam Police Station and met with Deputy Commander Wayne Dehearte, after which she filed a report against the ranks at the Office of Professional Responsibility (OPR).
The woman had alleged that the ranks dealt her lashes about her body, and her sickly son a lash to the back of his neck. She had also accused a rank of stealing $103,000 from her purse, during a search for the supposed missing phone.
Meanwhile, several days after filing the report against the police, the woman had said that she received a phone call from an unknown number threatening to kill her if she returned to the OPR and followed up the matter.
The woman had said that as a hardworking citizen of Guyana, she did not deserve the treatment meted out to her. 
Around the Web