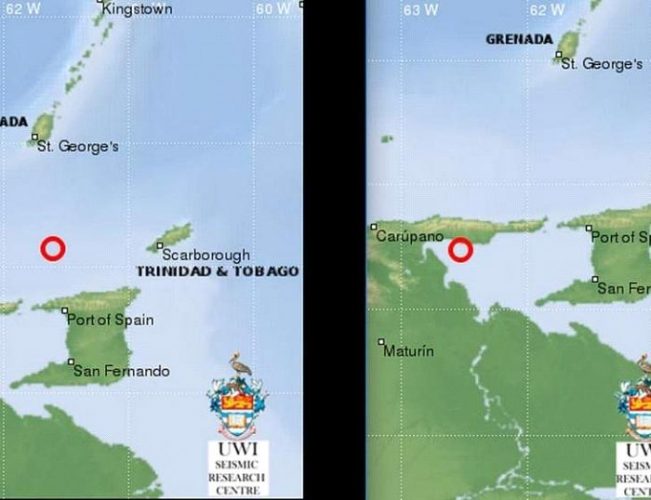 (Trinidad Express)  Earthquakes, measuring magnitude 4.5 were recorded by the University of the West Indies Seismic Research Centre on Wednesday morning.
The first tremor occurr-ed at 2:29 a.m. with a latitude of 11.5 North, longitude at 61.60 West and a depth of 10 kilometres.
Areas such as Port of Spain, Arima and Scar-borough were affected. However, there were reports of it being felt in Diego Martin, Sangre Grande, San Juan, Wood-brook and Petit Valley.
The second occurred at 2:54 a.m. The location was latitude 10.48 North, longitude 62.53 West and depth 10 kilometres.
The quakes were off Trinidad's north and west coast and were felt by people in North eastern Venezuela and Port of Spain.
Latchman said annually there are seven earthquakes expected within the range of a magnitude of 4.1 to 4.5, two in the 4.6 to 5.0 magnitude and one in 5.1 to 5.5 magnitude.
Comments

CARACAS,  (Reuters) – Venezuela's opposition coalition said yesterday it could not participate in a "fraudulent, illegitimate" presidential election on April 22 due to unfair conditions created by President Nicolas Maduro's government.
BRASILIA, (Reuters) – Brazil environmental agency Ibama will decide on French oil firm Total's application to drill in the environmentally sensitive Amazon river basin before the end of May, and possibly as soon as the end of March, an agency official told Reuters on Wednesday.

(Trinidad Express) Levi Dolloway, who was found guilty of unlawfully killing his wife, was on Tuesday sentenced to 15 years and four months behind bars.

(Trinidad Express) A GUAYAGUAYARE watchman was shot while headed to his workplace last night.

GENEVA,  (Reuters) – Sanctions should be stepped up against Venezuela's leaders and oil sector in response to the country's repressive political climate, the head of the Organisation of American States (OAS) said yesterday.