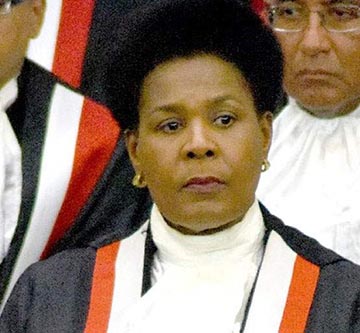 (Trinidad Express) Presidential nominee Paula Mae Weekes is likely to have her historic elevation into office with full support from both the Government and Opposition benches.
Opposition Leader Kamla Persad-Bissessar told the Express yesterday that she is "strongly considering" co-signing the nomination form.
Persad-Bissessar said she had contacted the Government yesterday seeking clarification and confirmation that Weekes had met the constitutional requirements for her appointment.
Concern has been expressed in various quarters on whether Weekes satisfied all requirements necessary for her appointment due to her position as an Appeal Court judge in the Turks and Caicos Islands.
Comments

SANTIAGO, (Reuters) – Pope Francis publicly expressed "pain and shame" yesterday over the rape and molestation of children by priests in Chile and later listened, prayed and cried at a private meeting with victims.
CARACAS,  (Reuters) – Rogue Venezuelan helicopter pilot Oscar Perez was killed in a police operation on Monday along with six other anti-government militants, the interior minister said yesterday, spurring opposition complaints of human rights violations.

(Trinidad Express) An Arima man was shot dead in his home on Monday night.

CARACAS, (Reuters) – Venezuelan authorities yesterday arrested five members of a "terrorist cell" linked to self-proclaimed rogue Venezuelan helicopter pilot Oscar Perez, and killed several other militants during a shootout in a poor area outside Caracas.
BRUSSELS, (Reuters) – European Union officials have proposed removing eight jurisdictions from the blacklist of tax havens the bloc adopted in December, in what critics may see as a blow to its campaign against tax avoidance.