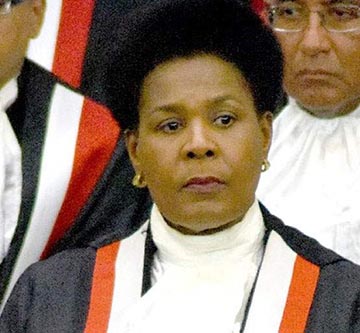 (Trinidad Express) Presidential nominee Paula Mae Weekes is likely to have her historic elevation into office with full support from both the Government and Opposition benches.
Opposition Leader Kamla Persad-Bissessar told the Express yesterday that she is "strongly considering" co-signing the nomination form.
Persad-Bissessar said she had contacted the Government yesterday seeking clarification and confirmation that Weekes had met the constitutional requirements for her appointment.
Concern has been expressed in various quarters on whether Weekes satisfied all requirements necessary for her appointment due to her position as an Appeal Court judge in the Turks and Caicos Islands.
Comments

(Trinidad Guardian) A domestic dispute yesterday turned deadly for a 27-year-old woman, after she was stabbed in the neck by her lover in broad daylight at the Croisee in San Juan.

LIMA,  (Reuters) – Peru's center-right President Pedro Pablo Kuczynski announced his resignation yesterday after a vote-buying allegations ensnared him in a fresh scandal on the eve of an impeachment vote, capping months of political turmoil in one of Latin America's most stable economies.
CARACAS/BEIJING,  (Reuters) – China is likely to extend an agreement providing crisis-stricken Venezuela with favourable loans repayment terms but will not lend fresh funds to President Nicolas Maduro's government, according to sources in Caracas and Beijing familiar with the situation.

(Trinidad Express) The woman beaten to death with a brick in Mayaro on Monday night was eight months pregnant.
CARACAS, (Reuters) – Opposition presidential candidate Henri Falcon's campaign vowed yesterday to implement a $25 monthly giveaway to Venezuelans, as part of plans to dollarize the crisis-hit economy and alleviate suffering should he win the May 20 vote.