(Trinidad Guardian) Energy Minister Franklin Khan said yesterday that the reports coming out of two independent investigations into A&V Oil and Gas Ltd have been referred to the Director of Public Prosecutions for advice.
Upon review, if it is found that there is sufficient information to warrant a police investigation, the Office of the DPP will refer the report to the police to commence an investigation.
Khan made the announcement in Parliament yesterday as he responded to an urgent question posed by Oropouche East MP Dr Roodal Moonilal who queried if the fake oil scandal which resulted in two completed investigative reports had been referred to the T&T Police Service.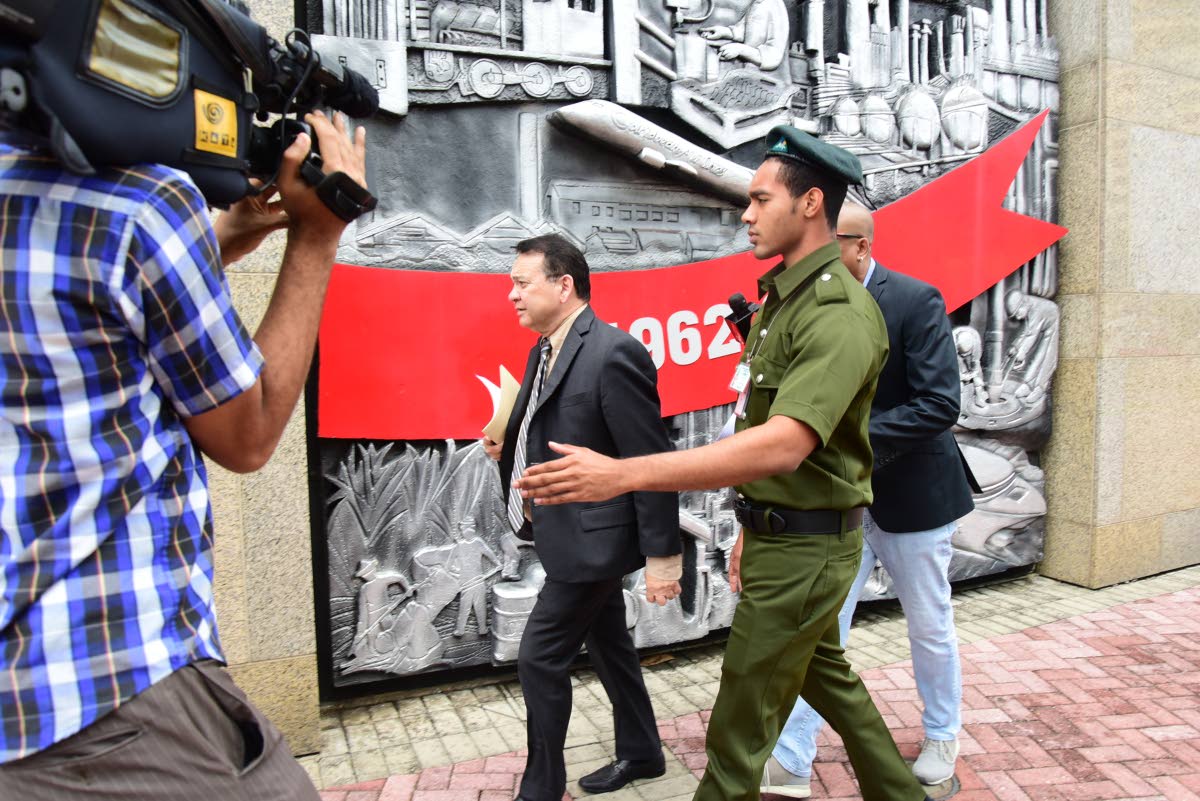 Khan said that two investigations into A&V were conducted last year.
One was undertaken by Kroll Consulting Canada Company which focused on the measurement system, while global oil and gas consultants Gaffney Cline and Associates deal with reservoir and petroleum engineering matters, Khan said.
An internal audit by the company for the period of January to June showed that Petrotrin paid more than $80 million for oil which it did not receive from A&V, the contractor on the Catshill Field.
Khan said the matter was not referred to the police.
"However, I have been informed by the board of Petrotrin that this said matter was referred in November of 2017 to the DPP for advice."
Moonilal asked Khan what attempts were made to "follow the real money siphoned out of this scheme and returned to the people of T&T" and "whether or not an alleged key player in this Mr Vidya Deokiesingh was still employed at Petrotrin."
Khan said Petrotrin's board nor himself had no such authority to follow the money.
"We did what we felt was proper to refer the matter to the DPP for advice," he said.
Khan said Deokiesingh was still an employee at the State-owned company "because he is under investigations at Petrotrin…and Petrotrin has very robust and well-written procedures as to how these investigations take place. And that process is ongoing."
Petrotrin terminated its contract with A&V last year and the company has signalled its intention to challenge the decision.
Comments

SANTIAGO,  (Reuters) – China invited Latin American and Caribbean countries to join its "One Belt, One Road" initiative yesterday, as part of an agreement to deepen economic and political cooperation in a region where U.S.
PORTO ALEGRE,  (Reuters) – Brazilian politicians, voters and investors will find out on Wednesday whether an appeals court will allow the country's most popular leader, Luiz Inacio Lula da Silva, to run for president this year after being found guilty of accepting a bribe.
(Trinidad Express) A fourth killing has happened in less than 24 hours. The latest murder is the shooting of a Chinese national at his supermarket in Diego Martin.
RIO DE JANEIRO, (Reuters) – The number of confirmed cases of yellow fever outbreak in Brazil has tripled in recent weeks, with 20 deaths since July, the World Health Organization (WHO) said on Monday.

LIMA,  (Reuters) – Pope Francis celebrated an open air Mass for more than 1 million people yesterday, ending a trip to Chile and Peru marked by tough talk on political corruption but a backlash over what many see as his insufficient resolve to tackle sexual abuse in the Church.