(Trinidad Guardian) Energy Minister Franklin Khan said yesterday that the reports coming out of two independent investigations into A&V Oil and Gas Ltd have been referred to the Director of Public Prosecutions for advice.
Upon review, if it is found that there is sufficient information to warrant a police investigation, the Office of the DPP will refer the report to the police to commence an investigation.
Khan made the announcement in Parliament yesterday as he responded to an urgent question posed by Oropouche East MP Dr Roodal Moonilal who queried if the fake oil scandal which resulted in two completed investigative reports had been referred to the T&T Police Service.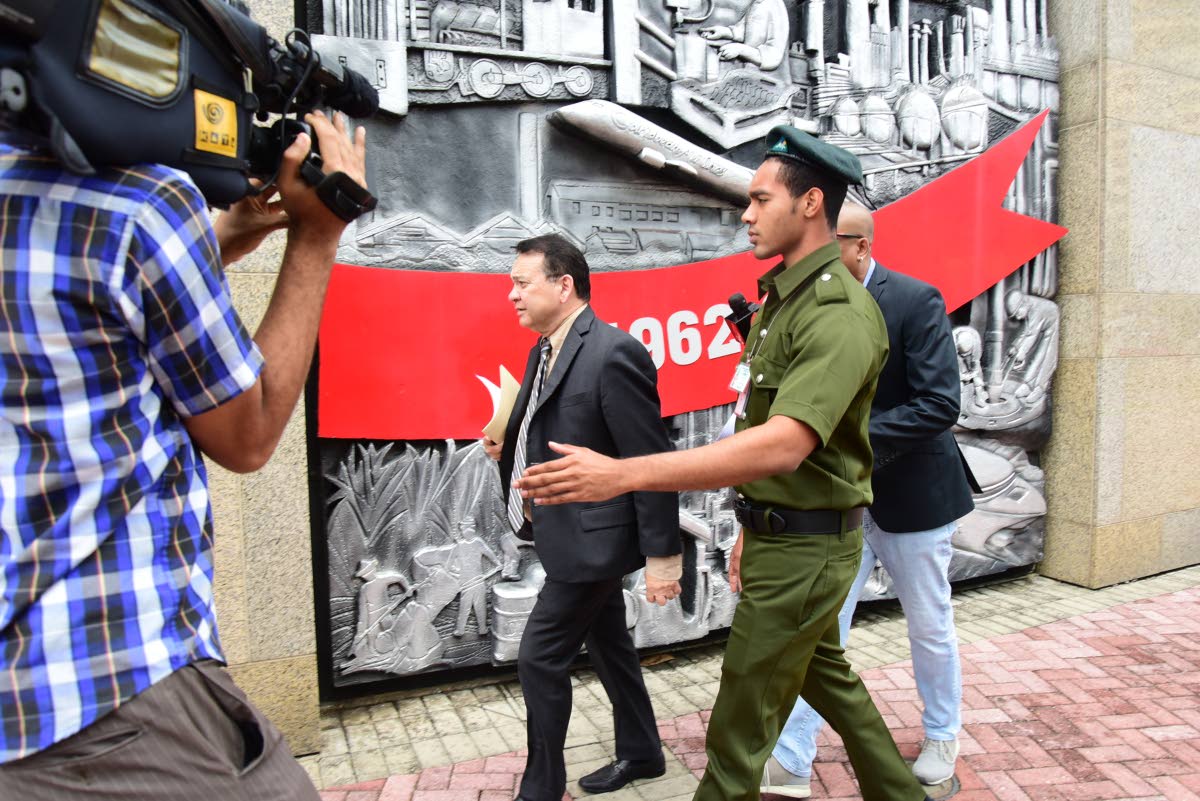 Khan said that two investigations into A&V were conducted last year.
One was undertaken by Kroll Consulting Canada Company which focused on the measurement system, while global oil and gas consultants Gaffney Cline and Associates deal with reservoir and petroleum engineering matters, Khan said.
An internal audit by the company for the period of January to June showed that Petrotrin paid more than $80 million for oil which it did not receive from A&V, the contractor on the Catshill Field.
Khan said the matter was not referred to the police.
"However, I have been informed by the board of Petrotrin that this said matter was referred in November of 2017 to the DPP for advice."
Moonilal asked Khan what attempts were made to "follow the real money siphoned out of this scheme and returned to the people of T&T" and "whether or not an alleged key player in this Mr Vidya Deokiesingh was still employed at Petrotrin."
Khan said Petrotrin's board nor himself had no such authority to follow the money.
"We did what we felt was proper to refer the matter to the DPP for advice," he said.
Khan said Deokiesingh was still an employee at the State-owned company "because he is under investigations at Petrotrin…and Petrotrin has very robust and well-written procedures as to how these investigations take place. And that process is ongoing."
Petrotrin terminated its contract with A&V last year and the company has signalled its intention to challenge the decision.
Comments

HAVANA,  (Reuters) – Cuba's new president, Miguel Diaz-Canel, began his term yesterday with a promise to defend the socialist revolution led by the Castro brothers since 1959, giving a sober speech that also emphasized the need to modernize the island's economy.
(Jamaica Gleaner) The Kingston pastor facing criminal charges for allegedly having sex with a 12-year-old girl and impregnating her has reportedly requested a second paternity test.

(Trinidad Guardian) The Government has suffered a setback in its prosecution of a corruption lawsuit against former Housing Development Corporation (HDC) officials, two State officials and two private companies over a $175 million land deal.

CARACAS,  (Reuters) – Chauffeured around in a sleek black pick-up, the head of Venezuela's oil industry, Major General Manuel Quevedo, last month toured a joint venture with U.S.