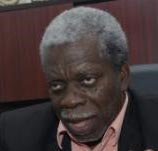 (Jamaica Gleaner) When president of the National Parent-Teacher Association of Jamaica Everton Hannam chose Fly Jamaica Airline to take him to Guyana for his annual end-of-year vacation, he could not guess the ordeal he would face.
For more than one week, Hannam was stranded in Guyana with an additional bill of US$800 for accommodation and food as the airline struggled with operational challenges that caused it to cancel scores of scheduled flights.
According to Hannam, the Caribbean in him prompted him to head to Guyana for his vacation, using Fly Jamaica Airline.
His return flight was booked for January 4, but he faced an unplanned extension as the problem-plagued airline was not able to get him home.
Hannam said even before he left Jamaica on Christmas Eve there were signs of trouble, as he should have departed at 5:15 p.m. but did not leave "until somewhere around midnight", arriving in Guyana on Christmas Day sometime between 3 and 4 a.m. Guyana time.
"My return was scheduled for January 4 at 2 a.m., to arrive in Kingston 4:30 p.m. A phone call was received via my Guyana contact advising not to go to the airport. A subsequent email was also received.
"These would constitute the sum total of communication received from Fly Jamaica, save one other phone call received from what appeared to be a US number," Hannam told The Sunday Gleaner.
"From the 4th to the present (Friday) I have been stuck here, unable to obtain from Fly Jamaica any positive or concrete information on date for departure to Jamaica," said Hannam.
He said his suggestion of finding another airline to take him to Jamaica through the United States was not entertained by the company, as the cheapest flight would cost nearly US$2,000.
"I was told that this decision was above the pay grade of the staff (my words). I explored the possibility of Fly Jamaica covering my hotel expenses. I was told that I should submit the bill and would be refunded in six to eight weeks.
"I visited the (Fly Jamaica) office twice. I called on numerous occasions only to be told that they would call. They did not, even when flights started to operate after the New York JFK blizzard shutdown," said Hannam.
"On one of my visits to the Carmichael Fly Jamaica ticket office I saw disgusted, frustrated, distraught passengers who were very fearful of losing their jobs, having been stranded for more than five days.
"Give us your number, we will call you was the usual response from the Fly Jamaica ticket office at this location," stated Hannam.
Around the Web