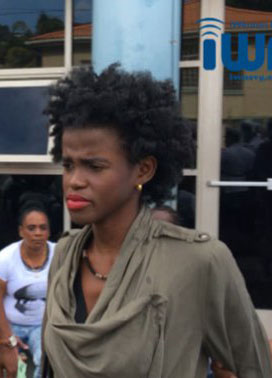 A former model in St Vincent and the Grenadines is under a court-ordered evaluation at the island chain's Mental Health Centre after she was taken before the court for using abusive language to the wife of the Finance Minister, who is the son of Prime Minister Ralph Gonsalves, according to Iwitness News.
It has been two weeks since Yugge Farrell, 22, was ordered to be mentally evaluated even though her lawyer has strenuously objected. On her return to court last Monday, according to the news outfit, her counsel Grant Connell told Senior Magistrate Rickie Burnett  "…  from my visits to the institution, contrary to my advice, Yugge Farrell was given medication".
The lawyer, according to the report, said that his client was given Risperidone and Lithium, antipsychotic medications, during her court-ordered two weeks of evaluation.
The news report said that Farrell has been the subject of national debate since she was arrested on January 4 2018 and charged on that day with using abusive language to Karen Duncan Gonsalves, wife of Minister of Finance, Camillo Gonsalves, and the daughter-in-law of Prime Minister Gonsalves.
She had pleaded not guilty to the charge at her arraignment on January 5 before Bertie Pompey, the then Kingstown Magistrate, who upheld an application by prosecutor, Police Constable Corlene Samuel that Farrell be sent for psychiatric evaluation.
Connell had protested in vain again the application, noting that it was presented without supporting evidence.
Since her hospitalisation, Farrell has appeared in videos published on the internet in which she has made a number of allegations, including that she was in a sexual relationship with Camillo Gonsalves, 44, which ended in 2016.
During Monday's court hearing, the report said, Connell said that his client has a history of having been given olanzapine, another antipsychotic drug.
He said the medications that his client was given "are serious antipsychotic medications that affect the chemicals in the brain.
"Up until I saw Yugge Farrell on Thursday, she was not behaving [as she did today]," Connell said in an apparent reference to the howl-like sounds that the woman had made in court.
According to the report, Farrell's demeanour in court was in stark contrast to her quiet and composed disposition at her arraignment two weeks earlier, when she sat quietly and spoke only when requested to while in the dock.
Around the Web