(Trinidad Guardian) It wasn't difficult to find the home of Ajay Aberdeen yesterday.
It wasn't due to his overnight social media fame, however. He's well known in lower Santa Cruz, where he sells his hot peppers. He is known for his trade and his kind spirit.
When Guardian Media met him yesterday he looked much smaller than the average 15-year-old. But it's when he spoke we understood that within his 5'5 frame was the perspective of a responsible young adult.
Aberdeen said he didn't expect that his video, which was shared on social media by the man who spoke to him and recorded their conversation recently, would be an inspiration to others. He said he was just highlighting and doing what he knew, which was hard work and ambition. And while others his age may have a disdain for manual labour, he said he has contempt for laziness.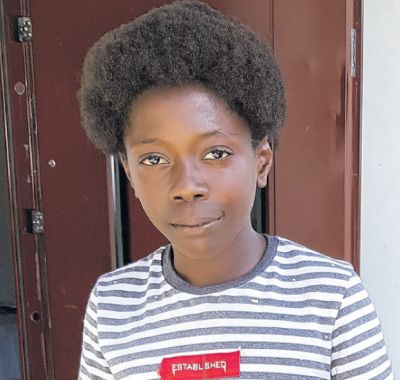 He's been in the hot pepper business since he was 11, he told Guardian Media. His uncle Wendell Aberdeen takes him to his garden in the mountainside. He sells the produce on Saturdays outside Uncle Beddoe's Supermarket along the Saddle Road in Santa Cruz. From Monday to Friday, Aberdeen has a full class load at the San Juan North Secondary School. It's a lot on his plate, but Aberdeen does not see the sun, sweat and soil of garden life, but rather its fruits.
Aberdeen also has some skill in football. In the video, which has been shared over 15,000 times, he had noted he has a fondness for auto mechanics and hopes to own his own garage one day. Yesterday, however, he said his real dream is to be a soldier. He says if he accomplishes this he will prove many people wrong.
But Aberdeen admitted that he too was almost lured into the world of criminality and unsavoury behaviour when he was younger. However, he said life is about choices.
"You don't have to thief or sell any drugs, if you aren't planting you can wash a car, positive vibes, honest money, blood money doesn't last long, play whe, stealing, drugs…it doesn't last long."
At a time when school violence, indiscipline and criminal behaviour are always are problems plaguing the society, Aberdeen's ambition and optimism has brought a glimmer of hope on the horizon.
Around the Web