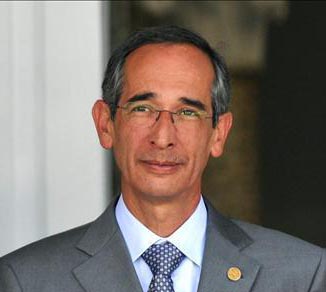 GUATEMALA CITY,  (Reuters) – Former Guatemalan President Alvaro Colom and a former finance minister who is now chairman of Oxfam International were arrested yesterday as part of a local corruption investigation, the public prosecutor's office said.
The arrests mark the latest chapter in a long-running series of United Nations-backed graft probes in the poor, violent Central American country that have ensnared current and former presidents.
Juan Alberto Fuentes, the chairman of Oxfam International, was among many former members of Colom's cabinet who were arrested, prosecutors said. His detention ratchets up pressure on the British charity, already reeling over sexual misconduct accusations in Haiti and Chad.
"These 10 people were arrested for alleged crimes of embezzlement and fraud," said Matias Ponce, a spokesman for the U.N.-backed International Com-mission Against Impunity in Guatemala (CICIG), which has taken the lead in pursuing high-level corruption cases in Guatemala.
In a statement, Oxfam defended Fuentes.
"The investigation relates to a budgetary transaction made by the Guatemalan government while he was Finance Minister in a previous administration," Oxfam said. "Fuentes maintains his innocence and assures us that he has cooperated fully."
Colom, 66, was president of Guatemala from 2008 to 2012. The investigation is looking at buses bought during his administration for a large public transport program.
"We think everything was legal, but let's wait and see what the judge says," Colom said as he entered the courthouse.
The eight other people arrested were Colom's former ministers who signed the deal to purchase the buses.
Colom is not the first Guatemalan leader to face graft accusations.
Current President Jimmy Morales, a former television comedian, came under fire last year from the U.N., the European Union and the U.S. ambassador in Guatemala for attempting to expel the CICIG prosecutor seeking to put him on trial for alleged corruption.
The investigation into allegations of illicit campaign financing, which followed separate graft probes into members of the president's family, had threatened Morales with impeachment. He escaped that fate but his authority has been seriously undermined.
Morales' predecessor, former President Otto Perez, is currently behind bars, awaiting trial on graft charges uncovered by CICIG.
Lawmaker Carlos Barreda said there was widespread support for those who had been arrested.
"There are many ministers who don't have anything to do with the (bus) project," he told reporters. "This action by the public prosecutor and CICIG seems out of proportion."
Comments

(Trinidad Express) Prime Minister Dr Keith Rowley said he has evidence that former United National Congress (UNC) Ministers received bribes when in office.

(Trinidad Guardian) In an historic move, Chief Justice Ivor Archie has initiated legal action against the Law Association, saying it has no authority to investigate him, and has sought to block any further action by the association pending the outcome of High Court action.

(Barbados Nation) "We are in solidarity with our sisters across the region… Justice for all!" was the cry that rung out Thursday night as placard-waving protesters disrupted a public lecture by St Vincent and the Grenadines Prime Minister Dr Ralph Gonsalves at the University of the West Indies, Cave Hill Campus.

(Trinidad Express)  Police on Thursday raided a house in La Romaine where nine Venezuelan men were allegedly found with firearms, 287 rounds of assorted ammunition and cash.

(Trinidad Guardian) British High Commissioner to T&T, Tim Stew, on Thursday confirmed that the terror threat made on T&T's Carnival was serious enough for the governments of T&T, the United Kingdom, Australia, Canada and the United States to hold high level talks on security.