(Trinidad Guardian) Neighbours and friends of 25-year-old Akel "Christmas" James are disputing the police's claims over the circumstances surrounding his death.
While police claimed James was killed in a shootout at his home early yesterday morning, residents alleged he was unarmed at the time. When a news team from the T&T Guardian visited the community yesterday, three people living within walking distance of James' home claimed he was executed by police.
"They just knock on the door and when he answer they start to shoot," one man claimed.
"There was a next man in the house. As soon as he hear the gunshots he run. They chase after him but they didn't find him," another said.
James' friends did not deny he had a criminal record, but claimed he was being falsely accused of being an assassin for a gang.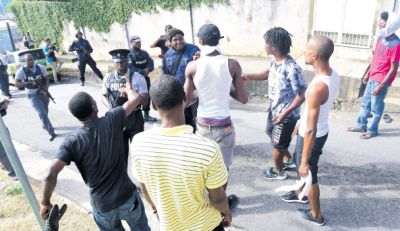 "He was a snatcher not a shooter. We not hiding the fact that he was not a saint. He had his trouble," one man said.
A small battalion of heavily armed soldiers and police were deployed to communities of East Port-of-Spain last evening, as law enforcement agencies braced for continued protests.
The protest action virtually ground all activity in East Dry River to a halt for much of yesterday.
The protest caused the closure of dozens of businesses, at least half a dozen primary schools and three health centres in Upper Laventille, Oxford Street and George Street.
The well co-ordinated action began before 6 am as irate residents hijacked a group of privately-owned garbage trucks contracted to the Port-of-Spain City Corporation and ordered the drivers to empty their contents at various strategic locations. The residents then ignited the heaps of rubbish as they vocally protested over James' death.
When the T&T Guardian visited the community yesterday morning, teams of police and soldiers were forced to stand by as residents evaded them by moving freely through tracks and lanes, while communicating their locations through a series of coded messages passed between limers at various street corners.
A video clip posted on social media showed a group of officers wrestling with a group of protesters at the corner of Observatory and Charlotte Streets, before one officer fire a series of warning shots, causing residents to run away.
By 10 am, fire officers were called in to assist in extinguishing the burning debris which blocked Observatory, Bath, Oxford, Basilon, Charlotte and Piccadilly Streets. Uniformed members of the T&T Defence Force were seen driving the corporation's trucks and backhoes as they worked to clear the roads to allow the resumption of vehicular traffic.
Port-of-Spain Mayor Joel Martinez was on hand to survey the damage and coordinate the clearing of the roads, which ended shortly after midday.
In a telephone interview with the T&T Guardian, Martinez described the protest as unacceptable. "It is not right. People cannot take the law into their own hands and riot on the street when the police are trying to bring law and order to society," Martinez said as he confirmed that the alleged threats made to garbage collectors would be investigated.
"It has impeded the progress of the city, as they have again blocked the roads and obstructed it from functioning. It is absolutely unacceptable," he added.
Martinez said he would meet with acting Police Commissioner Stephen Williams to discuss how to prevent further acts of civil disobedience in the future.
Most residents interviewed by the T&T Guardian claimed James was attempting to change his life since he was released from prison after serving two years.
"The man not in anything since he come out. He take his daughter from her mother and he was just quiet," another said.
They also pointed out that residents from communities in east Port-of-Spain, who would not normally cooperate, banded together yesterday to protest his death.
"Everybody know Christmas not in anything. You see how much people was involved today. That would not have happen if he had a gun and was shooting at police," a resident said.
According to a release from the T&T Police Service's Public Affairs Unit issued yesterday, James was killed as officers from the Inter-Agency Task Force (IATF) raided his home at Basilon Street, East Dry River, around 3.30 am.
Officers were about to execute a search warrant for firearms and ammunition, when they claimed they were met with gunshots.
They allegedly returned fire, hitting James several times. He was taken to the Port-of-Spain General Hospital where he was pronounced dead on arrival. Police claimed they found a Glock pistol and seven rounds of ammunition on the scene.
The release also stated James was facing 19 charges for a range of offences, including firearm and ammunition possession, cocaine possession and robbery with violence. He also had two previous convictions from 2013 and 2015 for larceny and common assault.
ASP Roger Gould, from the Professional Standards Bureau, has been assigned to investigate James' death.
The Police Complaints Authority (PCA) has also launched an independent investigation. While the PCA usually waits until a victim's relatives report an incident before launching an independent investigation, it exercised its discretion to do so on its own initiative in James' case.
"In this regard, the PCA is asking members of the public that were witnesses to or persons with information on or regarding the incident to kindly contact the PCA," a release said.
Around the Web