(Trinidad Express) Ragoonanan Narine has been sentenced to a total of 58 years in prison for sexual offences against a mentally challenged child who became pregnant after one of the assaults.
The sentences are to run concurrently. Narine, 53, will serve 23 years and seven months behind bars.
The market vendor was sentenced by Justice Hayden St Clair Douglas before the San Fernando Second Criminal Court on Tuesday afternoon.
The judge noted the "child-like" manner of the girl who is now 19-years old. Douglas said that while giving evidence during the trial, she was embarrassed when speaking of her genital and used the word "punki" or pointed to her private part.
It was in October of last year, a jury found Narine guilty of two offences of grievous sexual assault against the girl who was then around nine-years-old. These occurred on unknown dates between 2005 and 2007 while the girl was at his home.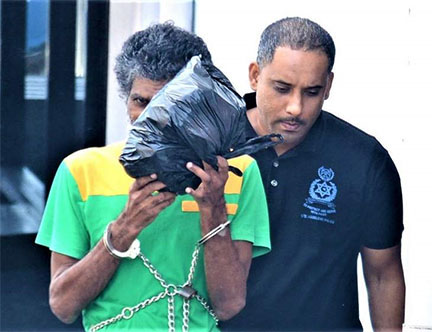 Before the attacks, the girl was removed from her mother's home without her mother's agreement. When she returned to her mother's house, she was taken to the police station where a report was made to officer Jalim. Narine was charged with two offences of grievous sexual assault.
Narine also entered a guilty plea for the 2013 rape of the girl.
In that year, following an argument at her home, the victim, who was between the age of 15 and 16 years, stayed with her sister for a few days before going to Narine's house. He raped her on a day unknown between August and September. Before the act, the girl took a towel and tied it over her eyes. The girl returned home in October 2013.
Her mother took her to the police station where a report was made to constable Woods.
In December of 2013, the officer took the victim and her mother to a medical health facility where the girl was mentally examined. It was then it was discovered that she was 16 weeks pregnant. No mention was made in court of what happened with the pregnancy.
Around the Web