(Trinidad Guardian) Joint police and Defence Force patrol camps are remaining in East Port-of-Spain permanently and will be supplemented as necessary, Minister in the Office of the Prime Minister Stuart Young says.
Young gave the update in the Senate yesterday when he and other ministers responded to queries from United National Congress Senator Wade Mark on various aspects of Monday's day of anarchy in East Port-of-Spain areas.
During the incident, residents blocked streets with burning items and debris as they protested the police killing of Akel "Christmas" James early Monday. Garbage was also dumped in several areas, including outside the constituency office of Young, who is the PoS North MP.
The unrest, which also involved parts of PoS South, also forced the closure of some health clinics.
Responding to Mark's queries, Young said: "What we saw unfold was most unfortunate, but immediately our law enforcement agencies moved into action.
"We had first responders go and contain what was taking place. That was further supplemented with not only specialised forces from the T&T Police Service, but also the Defence Force and they continued working for the next 24-hour period and managed to bring under control what was taking place.
"The joint forces of the TTPS and Defence Force have put into place action plans to deal with this situation.
"A number of investigations continued and we saw, fortunately, a return to normalcy within a very short space of time."
Young said there were at least two camps of joint police/army patrols in East PoS and they would remain as they were there permanently and would be supplemented as needed going forward.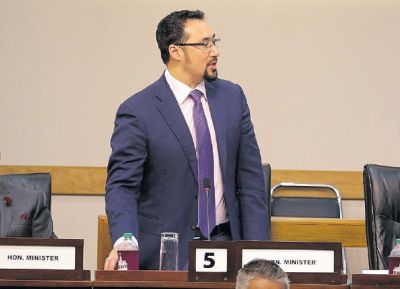 Young said Government had analysed some of the problems that might have given rise to the protests and what actions would be taken.
"As we heard from the TTPS, and as this incident has once again highlighted, Government is once again moving to bring Anti-Gang legislation and the Opposition are the people who are standing in the way of this," he said.
"The TTPS and the population recognise this legislation is an important tool in the arsenal of the fight against what we saw yesterday, where it's alleged a gang leader/member, was shot by the police and that's what led to the protests.
"If the Opposition wants to take the responsibility to keep the population in the dark and prevent Anti-Gang legislation, that's their choice."
On reports that a PoS garbage truck driver was threatened into dumping garbage on the streets, Local Government Minister Kazim Hosein said he sought information from city Mayor Joel Martinez on the matter.
Hosein said an attempt to meet with the relevant union and mayor, yesterday did not materialise and he will try to have the meeting today instead.
Hosein added, "The incident on Monday was very unfortunate and regrettable one for us all. The ministry doesn't see this type of behaviour as the norm and for the future we are strongly against this type of behaviour.
"Many of the residents of that area work at the (PoS) corporation and have time and time again co-operated with the Port-of-Spain Corporation and municipal police on a daily basis.
"The ministry is committed to ensuring safety of all workers contracted or otherwise. We aim to avoid these type of isolated incidents in the future by continuing to work closely and by building ties within the community."
Health Minister Terrence Deyalsingh confirmed that four health centres—at Upper Laventille, Success, Laventille, George Street and Oxford Street—were closed as a result of the unrest. But he said none of them catered to acute or life-threatening situations and the first three had dealt with patients before closing half day.
The Oxford Street centre, which closed on Monday and yesterday, reopens today, Deyalsingh added.
Around the Web