(Trinidad Express)  Police on Thursday raided a house in La Romaine where nine Venezuelan men were allegedly found with firearms, 287 rounds of assorted ammunition and cash.
The foreign nationals are suspected to have entered the country illegally, police said.
At around 2.15 p.m. a police team of the South Western Division Task Force went to the house at James Crescent where a warrant was executed to search the premises.
Police allegedly seized a Walter .40 pistol fitted with a magazine and eight rounds of .40 millimetre ammunition, an extended magazine, two .38 special revolvers with seven rounds of .38 ammunition, 266 rounds of nine millimetre ammunition, and six rounds of .40 ammunition.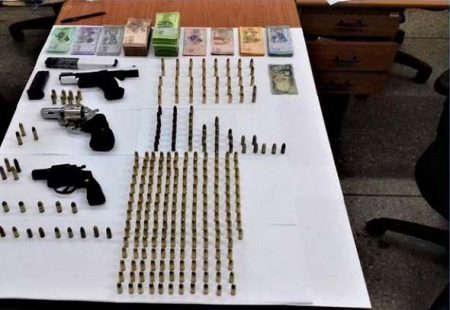 The cash consisted of Venezuelan currency. The suspects, aged between 21 and 30 years old, were detained and taken to the Penal Police Station.
They were expected to be handed over to Immigration authorities.
The exercise was spearheaded by Supt Phillip, ASP Abbott, Insps Banwarie and Mangroo and officers of the South Western Division Task Force.
Comments

(Trinidad Express) The woman beaten to death with a brick in Mayaro on Monday night was eight months pregnant.
CARACAS, (Reuters) – Opposition presidential candidate Henri Falcon's campaign vowed yesterday to implement a $25 monthly giveaway to Venezuelans, as part of plans to dollarize the crisis-hit economy and alleviate suffering should he win the May 20 vote.
WASHINGTON, (Reuters) – The United States will provide $2.5 million in food and medical aid to Venezuelans fleeing their economically-crippled country to neighboring Colombia and is poised to help other countries if the situation worsens, U.S.

Trinidad's sixth President Paula-Mae Weekes was inaugurated yesterday at a ceremony at the Queens Park Savannah, Port of Spain.
BUENOS AIRES,  (Reuters) – Colombia proposed yetserday that the International Monetary Fund provide assistance to help several hundred thousand Venezuelan refugees who have fled an economic and political crisis to neighboring countries, officials at the G20 summit said.