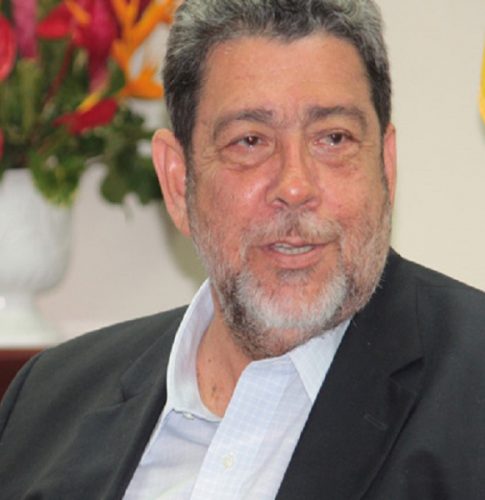 (Barbados Nation) "We are in solidarity with our sisters across the region… Justice for all!" was the cry that rung out Thursday night as placard-waving protesters disrupted a public lecture by St Vincent and the Grenadines Prime Minister Dr Ralph Gonsalves at the University of the West Indies, Cave Hill Campus.
The protest came in the wake of recent controversy and criticism over the handling of a case in St Vincent involving 22-year-old former model Yugge Farrell who is charged with using abusive language towards the wife of Finance Minister Camilo Gonsalves who is the son of PM Gonsalves. The young woman, who has alleged that she was involved in an extramarital affair with Camilo Gonsalves was twice sent to the country's mental health centre for evaluation though the prosecutor did not present any evidence that such an evaluation was needed.
The protesters, UWI lecturer Dr Kristina Hinds, public relations officer of the National Organisation of Women Marsha Hinds and Luci Hammans of the Life in Leggings movement, made reference to the case, calling for "justice for Farrell" and demanding "an end to nepotism".
"We do not like the abuse of power. We will not show deference to politicians or prime ministers because we are in solidarity with our sisters across the region because women's lives matter too," declared Hinds as she and other protestors held their signs aloft and university security officials tried to intervene.
"We don't just want to help with natural disasters. We want to help ensure our political system guarantees justice for all," she added.
Gonsalves responded by saying he would be willing "at some appropriate time" to meet with the protesters to discuss their concerns.
The protest went on for about ten minutes before the women left the lecture theatre in the company of security officials.
Comments

(Trinidad Express) The woman beaten to death with a brick in Mayaro on Monday night was eight months pregnant.
CARACAS, (Reuters) – Opposition presidential candidate Henri Falcon's campaign vowed yesterday to implement a $25 monthly giveaway to Venezuelans, as part of plans to dollarize the crisis-hit economy and alleviate suffering should he win the May 20 vote.
WASHINGTON, (Reuters) – The United States will provide $2.5 million in food and medical aid to Venezuelans fleeing their economically-crippled country to neighboring Colombia and is poised to help other countries if the situation worsens, U.S.

Trinidad's sixth President Paula-Mae Weekes was inaugurated yesterday at a ceremony at the Queens Park Savannah, Port of Spain.
BUENOS AIRES,  (Reuters) – Colombia proposed yetserday that the International Monetary Fund provide assistance to help several hundred thousand Venezuelan refugees who have fled an economic and political crisis to neighboring countries, officials at the G20 summit said.