(Trinidad Express) More intrigue in the case of Chief Justice Ivor Archie yesterday, with the disclosure by Acting President Christine Kangaloo that she had convinced Archie not to leave this weekend on his disputed six-month sabbatical to Washington DC.
The Chief Justice has agreed to stay until the return of President Anthony Carmona who granted the leave back on February 5, said Kangaloo.
Carmona is due back from his six day Florida vacation on Sunday.
By then Carmona will only have a week left in office. President –elect Paula-Mae Weekes will be inaugurated on March 18.
Kangaloo said there needed to be more discussion related to the Prime Minister's letter to President Carmona, dated March 7, which questioned Carmona's authority in granting leave to Archie.
According to the statement, Kangaloo said she: " has been in communication with the Honourable Chief Justice and invited the Honourable Chief Justice to consider deferring a departure from the jurisdiction prior to the return of His Excellency Anthony Carmona to the country on Sunday .The Honourable Chief Justice has agreed to defer such departure.
This invitation was made in order to enable further communications to be had in relation to the Honourable Prime Minister's letter to His Excellency Anthony Thomas Aquinas Carmona O.R.T.T., S.C dated March 7th".
There has been widespread concern over the decision of Archie to fly off to the US amid unanswered claims that he tried to influence judges to change their State-provided security in favour of private security which would have benefitted his friend Dillian Johnson, who has alleged that he has photographs of himself and Archie.
Some former and sitting judges, and attorneys have also questioned the constitutionality of Archie's leave, and consider his conduct and continuing silence to have done irreparable damage to the Judiciary.
Two judges, Frank Seepersad and Carol Gobin have made their opinion publicly known – that Archie had no other option but to step down.
Comments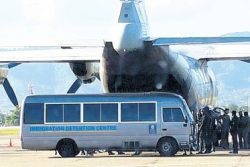 The United Nations System in Trinidad and Tobago yesterday expressed concern after authorities in  Twin-Island Republic announced they had facilitated the return to Venezuela of scores of Venezuelan citizens, including asylum seekers, who had been in detention.
HAVANA, (Reuters) – Venezuelan President Nicolas Maduro became on Saturday the first foreign leader to meet with Cuba's Miguel Diaz-Canel since he became president of the communist-run island this week, underscoring the importance of the Venezuelan-Cuban alliance.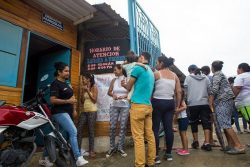 CUCUTA, Colombia  (Thomson Reuters Foundation) – Outside a church in the Colombian border city of Cucuta, Martha Carbajalino flips nervously through a pile of papers in her hands, standing with dozens of other migrant Venezuelan parents hoping to enroll their undocumented children into school.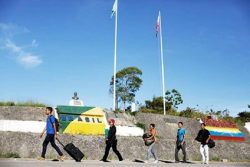 RIO DE JANEIRO,  (Thomson Reuters Foundation) – Brazilian authorities and aid groups are rushing to help tens of thousands of Venezuelan refugees before the start of the rainy season in northern Roraima state this month, even as government leaders clash over a request to close the border.