CARACAS,  (Reuters) – Venezuela needs to dollarize its economy, seek $15 billion to $20 billion a year from abroad, and ease oil sector taxes to reverse the "disaster" of President Nicolas Maduro's rule, according to an adviser to his main election rival.
Former state Governor Henri Falcon, who will face Maduro in a May 20 presidential vote, has tapped a 48-year-old Venezuelan economist with Wall Street's Torino Capital for ideas to turn around the OPEC nation's recession-hit economy.
"The person who has destroyed this nation's economy is Nicolas Maduro," Francisco Rodriguez, long an influential commentator on Venezuela, said in an interview.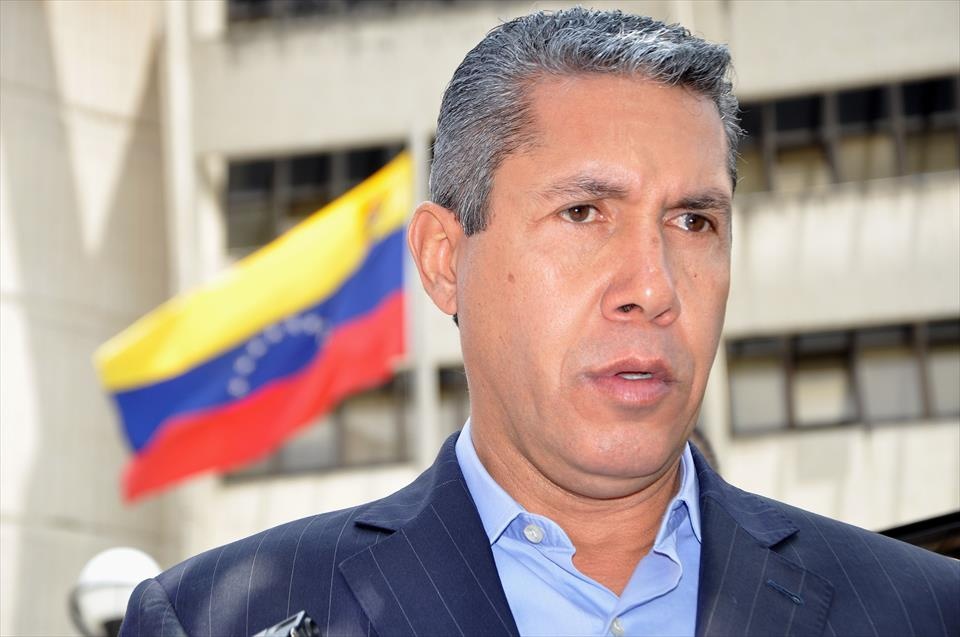 "He is the one that has made an economy sitting on the world's largest oil reserves, with all the potential for being prosperous, into an economy of hunger."
Falcon, 56, defied an opposition boycott to run despite conditions critics say are rigged to ensure the ruling socialists win. He wants Rodriguez to head his economic team if he takes the presidency.
Foremost among his ideas for stabilizing Venezuela's state-led economy is ditching the devalued bolivar in favor of the U.S. currency to "snap out" of hyper-inflation.
"You cannot have hyper-inflation if you are using the U.S. dollar as a currency, whereas all other types of adjustment programs can fail," Rodriguez argued, saying it would stop excess government money-printing.
Annual inflation is running at more than 6,000 percent, according to the opposition.
Rodriguez said most Venezuelans backed adopting the greenback and suggested a reasonable conversion rate today would be 70,000 to the dollar – far stronger than the current black market rate of 216,000.
To grow post-Maduro, Venezuela's economy would also need $15 billion to $20 billion per year in foreign capital, the adviser said, from both private investment and potential loans from multilateral bodies like the International Monetary Fund.
'WORLD'S MOST DYSFUNCTIONAL ECONOMY'
Maduro and predecessor Hugo Chavez demonized the international lending bodies as instruments of U.S. policy and global capitalism that prejudice welfare.
"What has avoiding the IMF gotten Venezuela? What has avoiding macroeconomic stabilization, what has not changing the exchange rate, not adjusting the price of gasoline? All of the things the government thought were unpopular and therefore avoided … they have produced the most dysfunctional economy in the world."
With oil production at a three-decade low, Rodriguez said it was imperative to give incentives to foreign joint venture partners by overhauling the tax regime and possibly lowering state company PDVSA's minimum 60 percent stake.
Closely read for years by Venezuela's bondholders, Rodriguez advised them to wait before aggressively pressing or "accelerating" claims as the cash-strapped state seeks to renegotiate some $60 billion of bonds.
"Once we come into government, it will certainly make life easier both for Venezuela and for foreign investors if acceleration (of payments) has not taken place," Rodriguez said.
Despite critics' accusations he is a stooge legitimizing Maduro's "dictatorship" by running, Falcon and his team believe they can win and point to some polls showing them ahead.
They hope the opposition coalition's boycott campaign will evaporate as Falcon's candidacy gathers steam.
"As time goes by, it's going to become clear that Henri Falcon is winning the presidency and that it makes sense for the different political actors to support him," Rodriguez said.
A former Chavez ally, Falcon broke with the socialists in 2010 and is now promising a "national unity" government. Another of his top aides suggested Maduro's defense minister could stay in a Falcon government.
"We do not believe in destroying 'Chavismo' to change Venezuela," Rodriguez said, arguing the ruling movement was an important minority that should be respected.
"If that means at some moment some co-habitation agreements have to be reached, I think that the governor will consider them carefully and decide in the interests of the nation."
Comments

(Trinidad Express) Three police officers attached to the La Brea Police Station have been suspended from duties pending the outcome of an investigation into how they responded to a domestic violence report made by Abigail Chapman, who ended up being killed along with her daughter and two others in la Brea this week.

(Jamaica Gleaner) Gloria Palomino was the first Jamaican woman to receive a recommendation by Dr Uma Dhanabalan and Dr Shantell Neely-James to legally purchase Cannabis in Jamaica.
KINGSTON, Jamaica (JIS) — The Petroleum Corporation of Jamaica (PCJ) says Jamaica stands to gain positively from the Production Sharing Agreement with Tullow Oil Limited, in the exploration for oil and gas off the island's coast.
(Trinidad Guardian) Even though Chief Justice Ivor Archie has changed his sabbatical leave to vacation leave, Government is still seeking the courts' interpretation on whether sabbatical is really an entitlement for judges.

(Trinidad Express) Police are asking for the public's help in locating Roger Mathison.