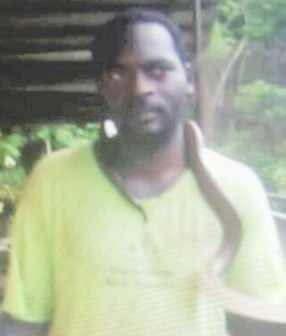 (Trinidad Express) Police are asking for the public's help in locating Roger Mathison.
Officers say Mathison can help them with information that can solve the murders of four people in La Brea on Tuesday.
Mathison's last known occupation is that of "PH" driver working the La Brea to Point Fortin route. He is from Gonzales Village, La Brea.
School teacher Abigail Chapman, 42, was killed along with her daughter Olivia, 15, Olivia's friend Mikella Chapman, 14, and their landlord 69-year-old Michael Scott.
The four were found on Tuesday night in Chapman's apartment, on the first floor of the house owned by Scott.
Police believe Abigail Chapman was the target of the attack and the suspect is a former companion.
Chapman became involved in a relationship with the man a year ago, said relatives, and recently tried to break it off because he became controlling.
She made a report to the La Brea Police Station last Thursday after the man came to the home and pulled a knife on her.
Police believe Chapman's daughter and friend were murdered because they were in the apartment when the killer came for her. In the case of Scott, police believe he heard the screams of the females and came trying to help.
The four were either knifed or battered to death.
Around the Web