(Trinidad Guardian) A domestic dispute yesterday turned deadly for a 27-year-old woman, after she was stabbed in the neck by her lover in broad daylight at the Croisee in San Juan. Anita Bahadur, of Evelyn Trace, San Juan, later succumbed to her injuries at the Eric Williams Medical Sciences Complex in Mount Hope.
The suspect, who is said to be in his early 30s, was chased down by eyewitnesses, including a T&T Defence Force member, who were stunned at his brazen knife attack on the woman. He was held several metres away from the busy Croisee intersection and badly beaten before he was handed over to officers of the San Juan Police Station. The incident occurred at about 2.30 pm.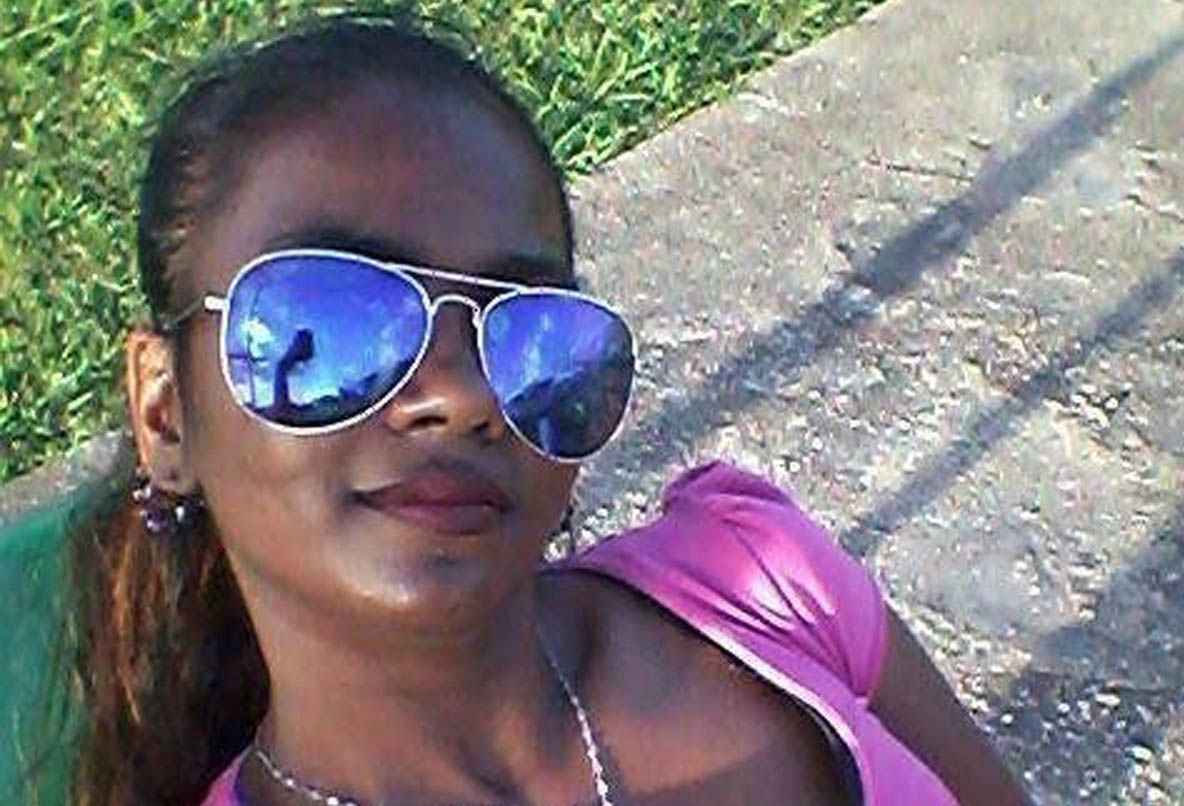 Speaking afterwards, a still shocked eyewitness Aldwin Samuel, 59, told the T&T Guardian moments before the mother of four was stabbed, the suspect walked up to her and asked her for his gold chain and money.
"I was sitting and he (the suspect) standing up next to me watching straight across the road. I notice when he walk across the road and walk past she, then he walk back to she and stood at her side. He ask she 'where is my money and where is my gold chain?'
"Then I see the man start to stab she up. He run and I take off behind him. About three of us and an army man made it four. We hold him by the book store and we beat him. When the police come we hand him over," Samuel said.
Samuel said he later learnt that the man and Bahadur were seen a few minutes before the stabbing incident at a nearby grocery engaged in a conversation.
"I was told that he was telling she that she owed him $80,000 before he left and walked away," Samuel said.
Samuel, a father of two daughters, admitted that he himself went through domestic problems in the past. He grabbed the opportunity to send a strong message to men, "Give up! Give up and let them go. Do not allow yourself to reach that position. Just give up!"
Samuel said he was saddened to see Bahadur lying motionless on the stretcher after the attack.
"This was just awful. So sad for me to go and look at her. I just tell myself that she gone. It was a hurtful thing, really wasn't nice to see. I just feel proud that we were able to hold the man and give him to the police."
Another eyewitnesses who helped catch the suspect, Garvin Tesheira, said he could not have sat idly by and do nothing after seeing the attack.
"I see the happening. The man had a big, long knife. I see the blood and when he jump up and run, I run him down and we hold him and beat him."
Up to late last night, the suspect remained in police custody.
An autopsy is expected to be conducted on Bahadur at the Forensic Science Centre, St James, today.
This latest incident occurred even as the funerals of murdered La Brea teacher Abigail Jones-Chapman and her daughter Olivia Chapman were being held yesterday. Domestic violence victim Jones-Chapman and her daughter were killed at their Sobo Village home last week, alongside Olivia's friend Michaela Mason and landlord Michael Scott.
Bahadur was the 14th female killed for the year so far and the second victim for this month. In 2017, 52 females were killed.
Investigations are continuing.
Around the Web