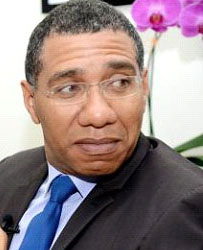 (Jamaica Gleaner) Prime Minister Andrew Holness has announced plans for the construction of more museums and libraries in honour of past leaders of the country.
Holness, while speaking at the rededication ceremony of the Bustamante Museum in Kingston last Thursday, said that it was only the beginning of a wider-scale effort to properly recognise those who have gone before.
"We are not only going to do this museum. I think we must erect monuments for all our leaders. We must put up museums and libraries in honour of all our heroes," the prime minister said.
Jamaica has had nine prime ministers, including Holness himself, and one premier, Norman Manley, who, like Sir Alexander Bustamante, is a National Hero.
"I know that the National Heritage Trust is working on a project that will be looking at creating other such monuments for all our leaders – Norman Manley, for Michael Manley, for Hugh Shearer, and, of course, those who are present with us," Holness said during the ceremony, where it was also announced that the North-South Highway would be renamed in honour of former Prime Minister Edward Seaga.
The prime minister pointed out that in other countries, much more has been done to ensure that the legacy of their leaders is preserved.
"That is why countries invest so much in creating museums – in preserving the artefacts, the books, the essays that are written. Some countries, of course, take it to the extreme. They preserve the dresses and the things that we might consider to be trivial," he argued.
Seaga, who later spoke with The Gleaner, said that Holness, his protege, was on the right track.
"Andrew is a different type of person, you know. He seems to have a whole programme in place to build statues and honour people throughout the country whereas previous prime ministers have never done that," Seaga said.
"I'm pleased that there is this prime minister now, looking at people's various legacies, rewarding them," Seaga said.
According to Holness, he was particularly concerned that the Bustamante Museum had closed and gave instructions for it to be reopened.
He underscored the importance of making such museums and libraries easily accessible, especially to young people.
"It is important that Jamaica preserve its cultural heritage and place them in arrangements that are accessible, that are well managed, and that will last for generations," Holness said.
"Knowledge of the personal sacrifice that people have made in their respective capacities as leaders should be part of the narrative of nation-building as it shows our children and the ordinary man or woman with a dream that success requires sacrifice. Indeed there is no success without sacrifice," he further pointed out.
Around the Web