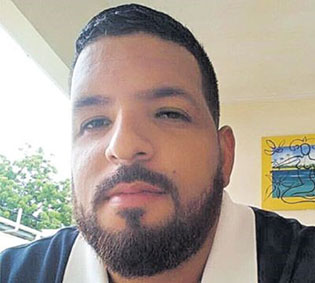 Autopsy on Venezuelan killed in T&T "shootout"….
(Trinidad Guardian) The family of a Venezuelan national who was shot dead by police are disputing a police account of a shootout and says an autopsy report showing that the victim was shot repeatedly from behind supported their claim.
Police had initially said that the man, identified on Monday as Marco Antonio Diaz Gonzales, 31, was shot on March 21, in Diego Martin during an armed confrontation.
Gonzales' family representative, David Edghill, an attorney and immigration consultant, said the autopsy results do not support the police account of a shootout.
According to an autopsy report, Gonzales was shot once in the back of the neck, four times in the mid-back region and once to the lower back. The autopsy was conducted by forensic pathologist Dr Hughvon Des Vignes at the Forensic Science Centre.
According to a police report, at about 11.30 pm officers were responding to an all-points bulletin to be on the lookout for a black Yaris motorcar which evaded a police roadblock exercise in Diego Martin.
The vehicle was intercepted near St Lucien Road and as the officers were approaching the vehicle they claimed they were shot at, and they returned fire, police stated.
The two occupants of the vehicle, a man and a woman, both Venezuelan nationals were shot. They were both taken to the Port-of-Spain General Hospital where the man succumbed to his injuries while undergoing treatment. Police said they recovered a loaded pistol and an undisclosed amount of US currency in the vehicle. The injured woman was identified only as a 21-year-old law student Monica. She was shot in the face and is still warded in a serious condition at the Port-of-Spain General Hospital.
Edghill said from his information, Gonzales drove past a red traffic light and was stopped by police. He said he believed that Gonzales got frightened when the officers came out and pointed their guns at him and he sped off. Edghill said Gonzales arrived in Trinidad via Piarco International Airport and was here to import food items so he could send it across to Venezuela, which is in the throes of an economic and social crisis.
"He went to the Immigration to extend his stay but was refused and because of that he overstayed and when the police stopped him that night and pointed the guns at him he was frightened so he sped off. I believe that the police shot him when his vehicle crashed. There was no shootout. Even the girl was shot in the face when she looked back at the police officers. I don't even know where that gun came from that the police said they found," Edghill said.
Asked about the US currency found strapped on the woman, Edghill said it was money they were going to use for Gonzales' commercial business. He said the money was secured to her body "maybe because being afraid of getting robbed."
Edghill said that he funded the airfare and accommodation for Gonzales' wife, Merlay Garban, to come to Trinidad for her to identify her husband's body.
Around the Web