(Trinidad Guardian) Weak with grief and with tears pouring down her face, Cindy Dowrich yesterday begged police to find the gunman who murdered her teenaged son for his gold chain.
Rinarco Balgobin, 19, of Southern Main Road, La Romaine, a member of the PNM's National Youth League, suffered three gunshot wounds to his neck and head as he tried to flee from his attackers around 4 am yesterday.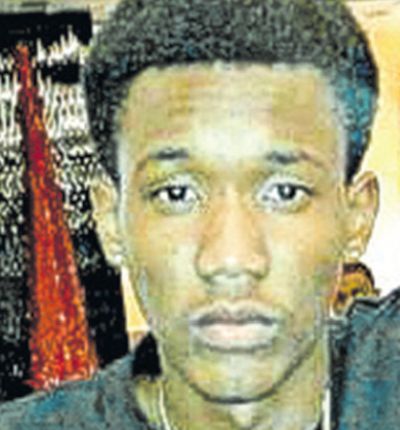 His mother said witnesses heard someone shouting "Mammy! Mammy!" before gunshots were fired but she never heard her son's call for help.
"I was sleeping on the couch in the living room and I did not even hear him. I slept in the living room because I was waiting for him to come home," Dowrich sobbed.
Wiping away her tears, the distraught mother said she warned Balgobin not to wear the chain as he left home on Thursday night to attend a fete at a bar on Cipero Street, San Fernando.
"I want you to find him. Don't ask questions. Find out who killed my son," Dowrich shouted to police and media. Another resident sat on the steps wailing. She screamed, "All yuh tell the police who have the gun!
Tell them." Other relatives told her to hush. Most of the people interviewed said they were fearful that the killer could return.
A source, who requested anonymity, said Balgobin came home around 4 am to see the killer waiting for him in a secluded area in his front yard.
The first shot missed Balgobin and he tried to run to the back of the house. As he collapsed near the fence, the gunman fired again hitting him twice and killing him instantly.
It was only around 9 am that Balgobin's family found him on the side of the fence.
Police said Balgobin was robbed of some cash and his chain. However, senior investigators said they have information that the teenager got caught up in a turf war and was killed and then robbed.
Balgobin's body has since been removed to the Forensic Science Centre where an autopsy will be done on Tuesday. Members of the Homicide Bureau yesterday took statements from residents and relatives.
In a statement yesterday, the PNM National Youth League said Balgobin served as chairman of the Oropouche West Constituency Youth League and was a former Committee Member of the National Youth League Executive 2016-2017.
Anyone with information on the death can contact Crime Stoppers at 800-TIPS.
Around the Web