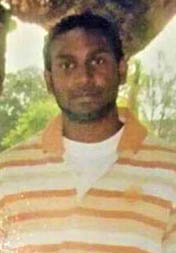 (Trinidad Express) The search for missing father-of-one Daniel Cooper ended yesterday morning, along an agricultural access road near Princes Town, where his body was found.
Cooper, 29, had been shot in the head.
Police believe he was killed for his car, a BlueBird Sylphy, which was also recovered in a neighbouring village.
Earlier today, Cooper's mother Zaziroom had made a desperate appeal through the Express asking the public for help in finding her son.
She said Cooper was last seen around 4:30 p.m. on Monday leaving his workplace at Esau Oilfield Supplies Company in La Romaine.
He was supposed to pick up his three-year-old daughter from Day Care in Palmiste but never showed up.
Cooper's wife was contacted by the Daycare Centre after 5 p.m. saying that he did not receive the child.
Cooper was last seen wearing a blue coverall and driving his white BlueBird Sylphy, registration PDB 8148. The vehicle has a prayer hand with the words "Jesus Saves".
Police made a break in the case with the arrest of a 26-year-old man in Princes Town on Tuesday night.
At around 10 a.m. yesterday, he took police officers to a road near Borde Narve Village where Cooper's body was found.
The car was found at Realize Road. Police say it was left there by the killers who intended to return for it at a later date.
The number plates on the vehicle had been swapped.
Police have since arrested two more suspects aged 23 and 28.
Around the Web