(Trinidad Guardian) A sense of "relief" descended on the Caribbean community in Britain yesterday when British Prime Minister Theresa May apologised to Caribbean leaders over the treatment of members of the so-called "Windrush Generation," who have been threatened with deportation after decades of living in the United Kingdom in what was a significant about turn on a decision by the British government to deport descendants of members of the Windrush Generation who are deemed illegal immigrants.
The move by the British Government created a firestorm in Britain as Commonwealth leaders gathered in London, which prompted the meeting with Caribbean leaders.
Prime Minister Dr Keith Rowley, in London for the Commonwealth Heads of Government meeting, did not attend the meeting, although T&T nationals were part of the Windrush Generation.
This country was represented by Foreign Affairs Minister Dennis Moses.
During the meeting at Downing Street, May told Caribbean leaders, "I want to dispel any impression that my Government is in some sense clamping down on Commonwealth citizens, particularly those from the Caribbean.
"I take this issue very seriously. The Home Secretary apologised in the House of Commons yesterday for any anxiety caused. And I want to apologise to you today, because we are genuinely sorry for any anxiety that has been caused," May said.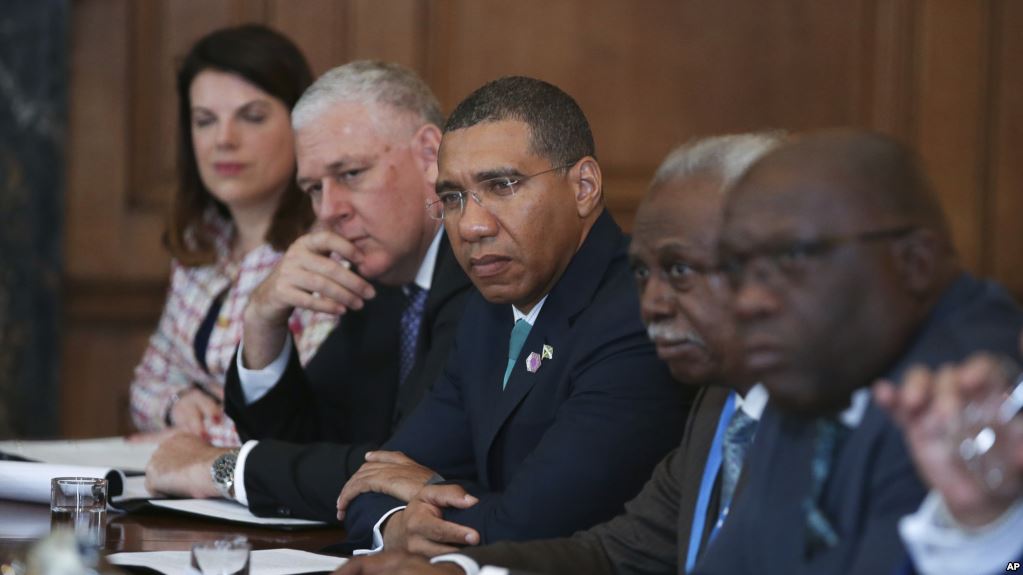 Jamaican Prime Minister Andrew Holness, who had a bilateral meeting with May before the wider discussion with Caribbean leaders and whose country has the highest number of Windrush immigrants, said he accepted May's apology. He said, "It is a concerning matter but we take note that the Government has given a commitment that justice is going to be done and is in the process of being done."
Trinidadian Ancil Wong told the T&T Guardian from London that the apology was a "relief" to those threatened with deportation over the next few days.
He said there had been a "sense of betrayal," among Trinidadians and other Caribbean nationals by the initial decision to deport, as it was felt that 70 years after the first Windrush immigrants arrived in Britain "nothing has happened and nothing has been done for all the years, although Britain was aware of the situation."
The Windrush Generation was invited to Britain to plug labour shortfalls after World War two, between 1948 and 1971. The name has its genesis in the ship HMT Empire Windrush, which brought the immigrants from Caribbean and African countries under a rule allowing freedom of movement within the Commonwealth.
Minors travelled on their parents' documents and some never registered for a passport. Today some of the descendants of the Windrush Generation have been deemed "illegal immigrants" and have been asked to provide documentary evidence of their life in Britain, which they had not been previously required to keep and in some cases were threatened with deportation.
This year marks the 70th anniversary of Windrush and Wong said among the T&T community in Britain the 70th anniversary "is viewed as a milestone for Trinis as it meant also the arrival of people like Lord Kitchener and Lord Woodbine."
"So from a Trini point of view it's an important milestone and presents the opportunity for people to revisit the presence of people from the Caribbean community and the contributions that they have made to the development of British society," Wong said.
The 70th anniversary of Windrush will be marked with a "Migrants Mass" to be celebrated at the Southwark Cathedral in London on May 7.
Chairman of the Catholic Commission for Social Justice Leela Ramdeen has been invited to speak to share her experience as a Caribbean national living in the UK and the contribution of Caribbean Migrants to the UK Society
Around the Web