(Trinidad Guardian) Paul Rajcoomar, 41, was an exemplar security guard and in no way was his killing connected to him carrying out his duties.
In fact, according to police investigators, Rajcoomar was a witness in a court case and was expected to attend court yesterday morning.
Investigators, however, did not want to divulge much details as they said it was of a "high risk and highly sensitive nature."
Rajcoomar, who was employed with Shield Security Services Limited for the past five years, had an attempt on his life two weeks ago, when a gunman approached him and opened fire, however, he escaped injuries.
Unfortunately for him though on Wednesday night while near his place of work at Albion Plaza Energy Centre, Victoria Avenue, Port-of-Spain, in another shooting, Rajcoomar did not survive.
He was shot multiple times about his head and body. He succumbed to his injures hours after undergoing emergency treatment at the Port-of-Spain General Hospital.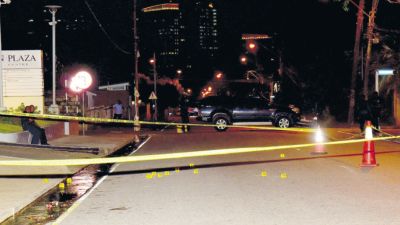 The incident occurred at about 8 pm when Rajcoomar was approached by a vehicle. Its occupant got out and shot him several times. The gunman escaped.
Rajcoomar was the father of four, ages 11 to 19 years and lived at Upper Davis Street, Belmont, with his mother, Sandra.
Speaking with the T&T Guardian yesterday, Sandra said that she did not have a clue as to why her son was killed but added that with the attempt on his life two weeks ago she begged him to take taxis to work instead of walking.
"Right now, with my husband for 35 years being killed innocently and now my son, I feel numb. I told my son to report the threat to the police but he did not have the faith in police that they would protect him," she added.
Sandra described her son as a loving individual.
Rajcoomar's boss, Simon Sobrian, the managing director of Shield Security Services, described him as a "model security."
"Paul was well-loved by everyone and was so dedicated to his job and call of duty. Even our client well loved him."
Sobrian said the mood at the company yesterday was "very sad" and tragic.
"There were five of his colleagues there when the incident occurred and we have arranged for them to have professional psychological counselling. We will do everything to make sure that Paul gets a very good send off as well and we are rendering support to his mother."
Rajcoomar's father, Devanan Rajcoomar, was killed on July 11, 2009 along with Joel "Snake Eye" Phillips.
Devanan was at his home in Gonzales liming with Phillips when gunmen approached them and opened fire. Both attempted to escape, however, they stumbled into a drain where the gunmen fatally shot them.
Devannan, was said to have been innocent as it was of the belief that the gunmen's target was Phillips, who was wanted for several homicides.
It was reported that Phillips' murder was a reprisal for the killing of Block Eight gang leader Ricardo "Docs" Mc Carthy.
Mc Carthy was gunned down on July 6, 2009. He (Mc Carthy) was the main suspect in the murder of ten-year-old Tecia Henry.
Tecia went missing on June 13, 2009. Her body was found stuffed in a dirt hole under an old house in Block Eight , Laventille, a few days later. A post-mortem report later revealed she was strangled. Homicide investigators took Mc Carthy into custody but released him because of a lack of evidence.
Rajcoomar's cousin, Johan Rajcoomar, was killed on October 19, 2017. He was a State witness in the July 20, 2005 murder of both his parents, Susan Rajcoomar, 51, and her common-law-husband Shyam Ramdass, 52, at their home on Oxford Street, East Dry River in Port-of-Spain.
Around the Web