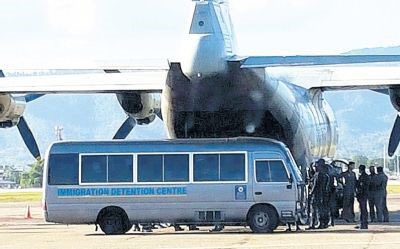 The United Nations System in Trinidad and Tobago yesterday expressed concern after authorities in  Twin-Island Republic announced they had facilitated the return to Venezuela of scores of Venezuelan citizens, including asylum seekers, who had been in detention.
"The United Nations is concerned for the welfare of these people and is in contact with the appropriate authorities in Port of Spain to ensure that any person in need of protection will get it without fail," said the United Nations Resident Coordinator, Richard Blewitt in a statement yesterday.
Blewitt's comments came after the Ministry of National Security announced that 82 Venezuelan citizens who had been held in detention in Trinidad had been turned over to the Venezuelan Embassy for repatriation to Caracas.
The group, comprising 53 men and 29 women, included several individuals who had been registered as asylum seekers in Trinidad as well as others who had initiated asylum requests or had signaled an intention to do so.
They were flown out of Trinidad on Saturday aboard a Venezuelan Government aircraft. The Ministry statement said all returns were voluntary although this could not be verified independently by United Nations observers, Blewitt's office said.
The statement from Blewitt's office noted that the United Nations and its local partners have encouraged the prompt adoption of national legislation on refugee issues, and working together to support the Government of Trinidad and Tobago in its efforts to develop an efficient and secure asylum system.
Yesterday, the Trinidad Guardian reported that National Security Minister Edmund Dillon confirmed the return of the 82. The arrangement between both governments–T&T and Venezuela—was finalised on Friday.
The military aircraft, flight number FAV2410, landed at Piarco International Airport South Terminal at 10.51 am from El Libertador Air Base Airport in Palo Negra, Venezuela.
It was agreed that upon instructions by Venezuelan President Nicolás Maduro a military aircraft would be dispatched "for pick-up", the Guardian said.
Just under 40 of those 82 Venezuelan nationals were said to have applied for asylum and refugee status in T&T but according to sources, the certificates they had in their possession were allegedly disregarded by Immigration officers here in T&T.
The Sunday Guardian was reliably informed that the 82 Venezuelan nationals were escorted by Immigration officers to the Venezuelan Embassy on Friday for the processing of the necessary documents for repatriation/travel.
"The operation was supposed to be a covert one but the public got wind of it and this prompted a release from the ministry," a diplomatic source said.
Shortly before 5 pm on Saturday, some 53 men and 29 women were processed by Immigration Officers and Customs and Excise officials at the Southern Terminal at the Piarco International Airport.
In a release issued Saturday evening, the Ministry of National Security said that the Venezuelan nationals were voluntarily repatriated with the assistance of the Ambassador of Venezuela to T&T, Coromoto Godoy.
At that meeting, the release stated, Godoy offered to provide transportation by both sea and air to ensure the successful repatriation of the Venezuelan nationals.
During that meeting Godoy requested that the T&T authorities take the Venezuelan nationals who were being kept at the Immigration Detention Centre (IDC) to the Venezuelan Embassy in Port-of-Spain to process their travel documents. This exercise was completed on Friday.
"Venezuelan nationals from the IDC—comprising nationals who would have breached this country's immigration laws and those who have served time in the prisons and were awaiting deportation on the completion of their sentences—were placed on board the aircraft," the Ministry of National Security release stated.
Additionally, the release disclosed that over the last two weeks members of the T&T Police Service as well as Immigration officers made several raids in the South where they detained a number of Venezuelan nationals who were in the country illegally, "These Venezuelan nationals were also allowed to leave the country for their homeland with no charges laid against them."
Venezuelan-born Psychic and activist Yesenia Gonzalez said she did not know much about the arrangement.
However, the very emotional Gonzalez said that the treatment meted out by Immigration officers and police in T&T towards the Venezuelan nationals were "discriminatory, insensitive, inhumane and uncompassionate."
"I am being told that people who have certificates that they applied for asylum and refugee status to the Living Water Community are being told that the certificates mean nothing and they are still being detained. It is too much discrimination and a violation of human rights," Gonzalez said.
Godoy was on site to observe the proceedings along with Chief Immigration Officer, Charmaine Ghandi-Andrews.
Earlier this month, during Joint Select Committee meeting on Human Rights, Equality and Diversity at the Parliament Building in Port-of-Spain, Gandhi-Andrews said that to date, approximately 2,000 Venezuelans have applied for asylum in T&T and the numbers are increasing.
Gandhi-Andrews told the committee that Venezuelans have been coming in droves as a result of their country's current situation.
On a weekly basis, she said between 150 to 200 Venezuelans come to T&T via the sea but noted that based on the numbers seen at the Immigration Detention Centre, the majority of them—at least 90 per cent of those people have entered the country illegally or have a criminal conviction.
Ghandi-Andrews disclosed that between 2014 to 2016, approximately 60,000 Venezuelans came to T&T. In 2016, 28,000 Venezuelan nationals arrived at a legal port of entry.
Around the Web