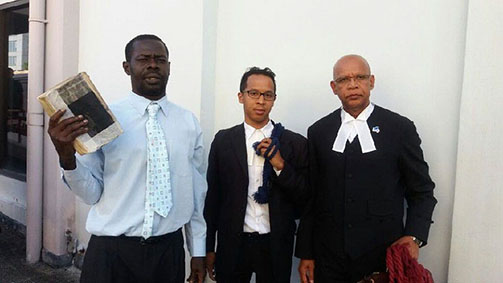 (Trinidad Guardian) "Puss" Cudjoe walked out of the San Fernando High Court thanking God and his attorneys for his freedom last Friday.
Cudjoe was found not guilty of the 2009 murder of his neighbour, Steve Roopchand.
Roopchand died after he was shot twice in the back. Earlier in the courtroom Cudjoe thanked the jury for "seeing his innocence".
He said he had been in prison unlawfully for the past nine years and eight months.
He told reporters, "There are plenty like me in the system."
Cudjoe, 47, who was a painter and parlour owner before his incarceration, asked for "God and the system to help them".
Cudjoe was on trial before Justice Maria Wilson in the San Fernando Third Criminal Court.
In his defence, he maintained that he was not present but was at home when Steve Roopchand was shot.
Cudjoe, who was represented by Ernest Koylass SC and Debbie Roopchand, exercised his right not to give evidence but called his nephew as a witness during the trial which began approximately two weeks ago.
The State's case, led by attorney Sabrina Dougdeen-Jaglal, was that around 7.30 p.m. on April 19, 2009, Roopchand, 39, was walking along the recreation ground at Friendship Village, near San Fernando, with his mother Elsie Roopchand and his wife. His hand was around his wife's waist.
Dougdeen-Jaglal said a man in black ran up behind Roopchand.
"The night air was sliced by two loud explosions," the State lawyer told the jury. "The person in black ran and Elsie Roopchand said, 'Derrick, yuh shoot meh son. Puss, yuh shoot meh son'.
"When his father reached him, Roopchand said, 'Dad, Puss shoot me. Take care of meh children'."
He told his mother the same.
The State called 13 witnesses including Roopchand's father, Rajpath Roopchand, 71. He testified during the trial as witnessing the shooting.
On Friday he told reporters he was dissatisfied with the verdict.
Wilson told the jury they had seen the trial process and she pointed out to them that there were facets which affect the length of time a matter takes to reach for trial.
She said documents had to be prepared and it took five years from Cudjoe's committal before the Magistrates' Court to the matter coming before the High Court.
Cudjoe first went on trial for Roopchand's murder in July of last year.
The jury failed to reach a unanimous decision and a retrial was ordered.
On Friday Cudjoe walked out of the Court a free man.
He plans to rebuild his business.
Around the Web