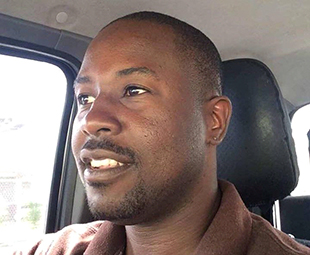 (Trinidad Express) Homicide victim Bevan James may have been killed for his car.
This from his brother, Byron James, who believes that the company his brother kept might have led to his demise.
James, 41, of Point Fortin, was found hog tied with his throat slit in Gran Couva on Monday.
James bled to death, an autopsy found.
He was last seen alive by his mother, Betty James, at around 3p.m. on Sunday.
James was leaving his apartment located behind his mother's house at Country Trace Extension when his mother went out to speak to him.
"She heard him start his vehicle and called out to him. He had someone in his company, but she did not see who it was. He told our mother that he was going out, then he was going to work for 10 p.m. And that was the last time he was seen alive", said the brother.
Byron James said his brother drove off in his beige Nissan B13 Sentra, fitted with "mag rims".
The family was told that someone received a text message from James after 6 p.m. Sunday, and he was not heard from again.
He did not report for duty at Petrotrin where he worked as a launch captain/ engineer with the marine division.
His body was found by a villager around 6a.m but his car was missing.
Police have since been informed that the vehicle was seen driving by someone whom the family did not know.
Byron James believes that his brother was killed at the river bank where his body was found near Coorosal Road.
"There is a liming area near that river bank and I believe he was pulled out of his car and his throat was slit right there", said the brother.
Byron James said his brother and mother shared a close relationship, and around the same time the body was found the mother awoke from sleep.
"She heard him call out to her, and she went outside looking for him. When she didn't find him she called him phone, I called his phone and it went to voicemail. Later when she heard the news of the body being found, she went to the police station because she had a feeling it was him. Police contacted her later and arrangements were made to identify the body", said the brother.
Police are yet to detain a suspect in the killing.
James was not married and had no children.
His funeral service is expected to be held at 3 p.m. on Saturday at the chapel of Guides Funeral Home at Coffee Street, San Fernando. The body will be cremated at Belgroves Funeral Home in San Fernando.
Around the Web