(Trinidad Guardian) The murder toll rose to 192 yesterday following the murders of three people, including a 16-year-old schoolboy in South.
The murders occurred from Monday night into yesterday morning in Diego Martin and Marabella. However, a total of six people were also shot and wounded in three separate incidents.
In Diego Martin, shortly after 8 pm Monday gunmen walked into Hillaire Street and opened fire on residents. Two mothers, who were holding their babies, had to drop to the ground and cover their children.
Seven people in total were shot. They were identified as: Kafini Eligon, 29; Nathaniel Quow, 48; Cheekah King, 18; Obar Charles, 29; Nakyiah Goodridge, 33; her son, Jabari Goodridge, 19 and Adrian Charles, 29.
Charles died on the scene and Jabari Goodridge's body was later found in some nearby bushes. Goodridge's mother, Nakyiah, was shot in both her legs and had to undergo emergency surgery at the Port-of-Spain General Hospital yesterday.
One of the mothers who survived the attack said she was holding her five-month-old baby when she came out her house to meet a relative, who also had her eight-month-old son in her hand.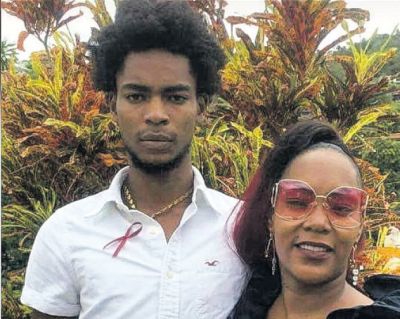 "I just hear gunshots ringing out and I dropped and crawled with my baby in my hand. The other woman fell on the ground and covered her baby with her body. Thank God our babies weren't killed. It was real scary. The gunmen came with big machine guns with big barrels on them."
Speaking to the T&T Guardian at the Forensic Science Centre, St James, yesterday, Charles' mother June Marcano said her son was "just at the right place but at the wrong time."
"He usually goes there to look for his grandmother and was there and outside when the gunmen came. O gosh…this is too much to deal with. Just last week he called me to find out if everything was okay with me. He was my fifth child of 11 children," Marcano said. She described her son, who was the father of two, as a quiet person.
Goodridge's aunt, who did not give her name, said he was inside her house assisting her with doing laundry when he left to get a cigarette.
"Imagine he went to get a cigarette and he get killed. My nephew was my everything…so loving and helpful," Goodridge's aunt said.
She said his mother Nakyiah was told of his death when anaesthetic she was under at the hospital wore off.
"My sister real cry I heard. It real sad. This place just gone," the woman said.
Investigating officers said they believed the shooting was linked to another drive-by shooting at Morne Coco Road, Petit Valley, last Thursday, where Allan "Spanish" Lopez, 35 and Jorden "Ragga Dan" Gibbs, 23, were killed as they were playing cards.
In an unrelated incident in Lopinot around 5 am yesterday, Rick Small was shot several times as he was standing at Lopinot Junction. He was warded in a stable condition at the hospital last night.
Around the Web