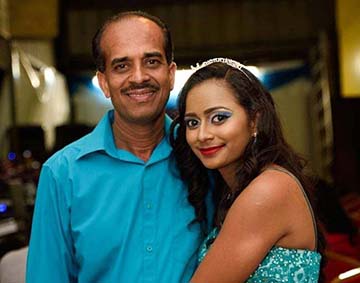 (Trinidad Express) Businessman Imtiaz "Harry" Khan was stung over 50 times by Africanized bees last Saturday.
The father of two did not survive the attack.
Inayatali Khan said his younger brother was diabetic and had an allergic reaction to the bee stings.
Khan, 48, was well-known in Williamsville where he operated a vegetable stall for about 25 years.
His brother Inayatali Khan recalled that last Saturday's his younger brother was clearing a piece of land a short distance away from his home, using a bulldozer. Khan told the Express that there was a bee hive at the base of a tree on the land and the mud from the bulldozer came in contact with the hive, disturbing the bees.
Officials who later sprayed the bees told the family they were Africanised bees which are commonly called killer bees.
Inayatali Khan said he was bitten over the eye and on his chest and over an hour later these stings still burnt.
"My brother got over 50 stings. I could imagine how he was feeling …. I have seen him grow up from small and he could withstand real pain but he was bawling too bad after he was stung," an emotional Khan said.
Khan said Imtiaz Khan ran to a relative's home and was taken to a nearby drug store where assistance was given.
He was taken to hospital by ambulance where Khan said his brother became unconscious. He remained on life support until he passed away on Tuesday night.
Around the Web