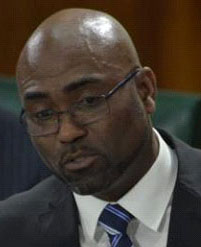 (Jamaica Gleaner) Dr Andrew Wheatley says he decided to step aside to allow for the issues surrounding the management of the Energy, Science and Technology portfolio to be ventilated.
News of Wheatley's resignation came this afternoon, weeks after calls from the opposition and members of civil society called for his removal over the allegations of corruption, fraud and mismanagement at the state-own oil refinery Petrojam and the National Energy Solutions Limited.
Both agencies fall under the ministry.
In his resignation letter, an embattled Wheatley indicated that there should be a general performance review of the ministry in light of the questions that have been raised.
Arguing that he believes in the tenets of good governance, he said that this necessary review should be done without his presence.
It is for that reason he resigned yesterday with immediate effect.
"This is necessary to reassure the public that the highest standards of probity is being applied to the administration of the affairs of public bodies under the portfolios.
"With immediate effect, I will step back from my duties as Minister and Cabinet member. This will allow me to focus on my Constituency and Parliamentary obligations," Wheatley said.
Around the Web