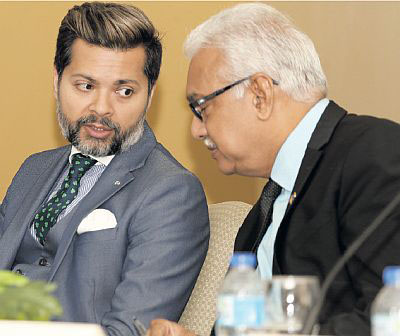 (Trinidad Guardian) The Ministry of Health will this month go on a recruiting drive for 250 specialised doctors from Cuba to service the public health care system.
This was revealed on Wednesday by Health Minister Terrence Deyalsingh at a press conference at his ministry's Port-of-Spain headquarters.
Deyalsingh went to great lengths to explain that the Regional Health Authorities (RHA) have been experiencing problems with recruiting local doctors to fill 11 specialty areas for the past year, adding every doctor wants to work in what he called the "Cathedral of Medicine", either the Eric Williams Medical Sciences Complex (EWMSC), San Fernando General Hospital or Port-of-Spain General Hospital rather than the rural communities. However, he could not say if this "demand" was as a result of the prestige of working at these facilities.
"I have a need, therefore I would go to Cuba. That is why we have to employ foreigners because our locals do not have the skill set or don't take advantage of the opportunity to work in the public sector for whatever reason," Deyalsingh said.
He said even primary healthcare doctors have been resisting work in rural areas, which led to the ministry engaging the United Nations to get UN doctors to come here to work.
"So if every House Officer wants to work in A&E, but you need House Officers in oncology what are we to do? And that is the position we are faced with."
In a bid to serve the public's needs, Deyalsingh said this month the ministry will be sending a team to Cuba to recruit healthcare professionals in these 11 specialised areas that the RHAs cannot source locally.
Among them are paediatricians, gastroenterologists, cardiologists, haematologists, nephrologists, specialists in internal medicine, orthopaedic surgeons, paediatric cardiologists, maxillofacial surgeons, ophthalmologists and specialists in Accident and Emergency.
The contract for the Cuban doctors will be three years with an option to renew for a fourth, he said.
But Deyalsingh still also invited unemployed local specialists to join the RHAs, stating that the country needed them urgently.
Questioned about how many specialty doctors will be sourced from Cuba, Deyalsingh said "about 250."
Of the specialty areas, Deyalsingh said haematology, paediatric cardiology, orthopaedic surgeons and maxillofacial surgeons are in highest demand.
At the EWMSC, he said there is currently just one paediatric cardiologist while there are only two Cuban maxillofacial surgeons in the public sector.
Pressed on if specialists can be compelled to work in the public sector, Deyalsingh said this can only be applied if they obtain their specialist qualification via the Government, noting that to force them to work in the public sector would be a violation of their constitutional rights.
Asked how Government will bridge the gap, given that hundreds of medical students are graduating from UWI in areas where they cannot fill the public sector vacancies, Deyalsingh said UWI has started a DM (Doctorate in Medicine) programme in specialty fields.
"You are not going to get the output immediately. It takes time to train them and then they have to work under supervision…there is a lag time."
He said as soon as graduates exit the DM programme, positions will be offered to them.
In May, Cabinet also agreed to employ 75 interns at public hospitals. Deyalsingh said the 75 interns will be employed at the nation's hospitals "because UWI was producing all these interns. Now, it's not that we needed these 75. I want to make that abundantly clear."
He said these positions will "soak up" the supply coming out of UWI.
Although the Cuban recruitment drive will begin shortly, Deyalsingh also could not say when the positions will be filled and how soon the doctors are expected to arrive here to serve the public.
"We are trying to do it as soon as humanly possible. I am treating it with urgency."
Asked if the ministry will pay more to attract the Cubans' services, Deyalsingh said, "No, not necessarily, but we do pay for the board and so on here. So it is not really more."
Around the Web