(Trinidad Guardian) "I will say I am the sum of my books."
So said T&T-born novelist Sir Vidiadhar Surajprasad "VS" Naipaul as he delivered a lecture during his receipt of the Nobel Prize in Literature in 2001.
Naipaul, who had published more than 30 books over five decades, died at his London home yesterday, one week away from celebrating his 86th birthday.
Lady Naipaul confirmed that her husband had died peacefully.
"He was a giant in all that he achieved and he died surrounded by those he loved, having lived a life which was full of wonderful creativity and endeavour," she said.
Born in Chaguanas, Naipaul moved to Port-of-Spain with his family when he was six years old.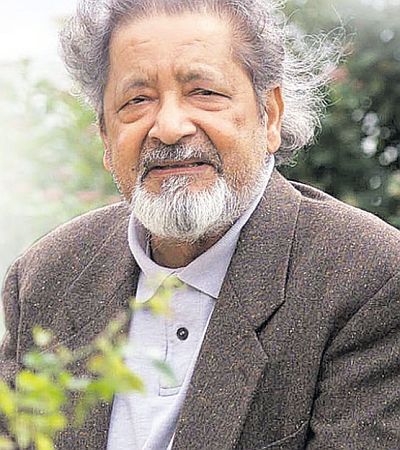 Port-of-Spain was the setting for his 1959 novel Miguel Street.
Naipaul's 1961 novel, A House for Mr Biswas, was based on the life of his father Seepersad, a reporter for this newspaper, T&T Guardian.
And on February 2014, Naipaul's childhood home at Nepaul Street, St James, was unveiled as a cultural heritage site.
In 1989 Naipaul was awarded this country's highest national award the Trinity Cross. He was also knighted in 1989.
However, Naipaul has sometimes been seen as a controversial character in T&T.
Writing in the Times Literary Supplement in August 1958 Naipaul said "Trinidad may seem complex, but to anyone who knows it, it is a simple colonial philistine society."
'Govt must properly honour Naipaul'
Dr Jerome Teelucksingh yesterday described Naipaul as a "genius".
"Naipaul had certain talents and certain gifts and sometimes he came across harsh, crude, he had idiosyncratic behaviour, some people saw him as eccentric or odd, but we have to remember that sometimes being a genius comes with certain flaws, we have to recognise the genius and also recognise the flaws within the genius.
"Some people have rejected him because of his caustic and bitter comments, some people believe he has rejected Trinidad and he has adopted England as his homeland and this is all part of the immigrant experience. Many immigrants today in the 21st century also tend to reject their homeland and the upbringing that they had, but he spent a great time of his life here in Trinidad at QRC, so we have to remember that."
After Queen's Royal College, Naipaul won a scholarship and studied at Oxford University.
Teelucksingh said Naipaul made a valuable contribution to literature and brought pride to the Caribbean.
"Here is a man who delved into fiction and non fiction, he produced a literary tapestry that would remain unmatched, a very prolific writer, someone who was fearless, he was a writer who used his pen like a sword to attack certain ideologies and certain behaviours and certain beliefs that he felt was backward or primitive," Teelucksingh said.
"Naipaul used his pen and his tongue as swords to attack sometimes people and institutions that he felt would have been not progressive, and over the years he has had a love-hate relationship with Trinidad and Tobago, but we need to remember that he has played a very important role to shape the Indo-Trinidadian identity and I think we need to remember him for this."
Teelucksingh called on the Government to properly honour Naipaul.
"We need to find a way to honour him, maybe by a scholarship at the university. I don't think building a statue will profit anyone. We might even want to consider bringing down one of our Trinidadian writers every year and have a Naipaul Memorial Lecture to keep his memory alive."
'One of the giants of Caribbean and world literature'
Dr Merle Hodge described Naipaul as "one of our greatest gifts to the world."
"It is widely recognised that he is one of the giants of not only Caribbean literature but world literature," Hodge said.
Hodge said the first part of Naipaul's works provided us with "very uncompromising portraits of ourselves."
These works included the Mystic Masseur, The Suffrage of Elvira, and The Middle Passage.
"He was a controversial figure in our literary tradition partly because of his critical attitude to our society, a really incisive critique of Trinidad and Tobago, but this attitude often comes over as contempt. But criticism is one of the functions of literature, so we have to accept that from our writers of fiction who really would observe us closely and paint us in all our glory and all our faults," Hodge said.
"There was a point in his career where he made a declaration where he seemed to suggest he didn't consider himself a product of Trinidad and Tobago, he tried to reject us as it were but his fictional works suggest otherwise, the sheer precision of the portraits that he paints of us, that made him Trinidad and Tobago true and true, the fact that he was able to observe us so closely and render some of our features," she said.
Hodge said when Naipaul made the controversial statement then, she labelled him then as a "neemakaram". But in spite of that, she has great admiration for his work.
"He made the statement which seemed to place him outside of our influence as it were, so although at that time I'm afraid I called him a neemakaram but in spite of that, I have great admiration for his work. His skilful use of language, and this is both Standard English and Trinidadian Creole, his early novels represented our creole with a great deal of accuracy, skill, and art," she said.
"There is also his sharp sense of humour and keen powers of observation, I do believe VS Naipaul is one of our greatest gifts to the world."
Around the Web