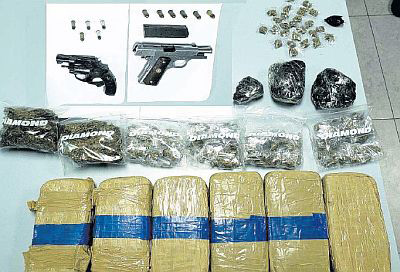 (Trinidad Guardian): Two guns, a quantity of ammunition and marijuana have been seized by officers of the Port-of-Spain Division.
The raid, headed by acting Senior Supt Floris Hodge-Griffith, was carried out in the Besson Street and Belmont districts yesterday.
The Police Service said the officers conducted a search at Bath Street Plannings in Port- of-Spain and found five kilogrammes of marijuana valued at TT$50,000, hidden in an abandoned black Nissan Tiida.
They also found two firearms—a Colt pistol loaded with six rounds of .45mm ammunition and a Smith and Wesson revolver loaded with five rounds of .38mm Special ammunition in an abandoned Nissan B15, along Pelham Street, Belmont.
WPC Malika Ramgoolie and PC David St Clair of the POSDTF are continuing enquiries.
Supervising the exercise were acting Insp Randall McGuirk and acting Sgt Jason Lucas.
Around the Web