(Trinidad Guardian) Tuesday's 7.3 magnitude earthquake forced the Ministry of Health to move patients out of the Central Block of the Port-of-Spain General Hospital after it suffered minor damage.
The shifting of patients will allow the Urban Development Corporation of T&T (Udecott) to undertake remedial works to damaged areas of the hospital, Udecott chairman Noel Garcia said yesterday.
Despite this, Garcia said engineers had found the building sound after an examination following Tuesday's shake-up.
"What our engineers found was that the building is structurally safe. There was some cracking…there was a separation of the ramp between the operating theatre and the Central Block, there was some damage to the kitchen on the fourth floor," Garcia said in a telephone interview, but noted the engineers had confirmed there was "no immediate danger" with the Central Block.
"We want to give some level of comfort and safety to the healthcare staff and public who were terrified and petrified because the building swayed and rocked with the violent earthquake. There was this prediction it would have collapsed."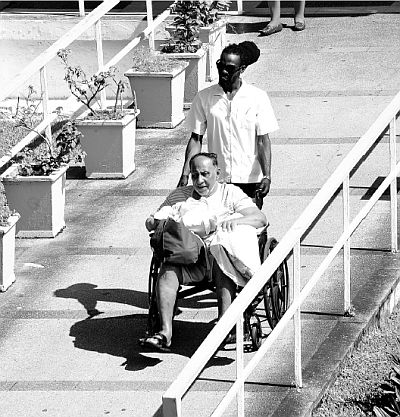 He said three structural reports were undertaken by PAHO, Aron Bush and Liam and Partners on the Central Block, which had outlined that there were structural deficiencies and warned that if a major earthquake had taken place the hospital would have collapsed.
But he said despite these reports the hospital remained standing with little damage.
He said going forward, Udecott proposed to do remedial works on the Central Block's five floors.
The five-storey building was built in 1952 and houses 400 beds. Garcia could not say when works would begin, as Udecott's engineers were coming up with its designs and scope of works.
"It should begin soon and it would not take very long. We are not talking millions of dollars in work, you know. It makes no sense throwing good money after bad. We are not going to do retrofitting works."
Garcia said tenders for the Central Block had gone out, stating that three or four firms have signalled their intention to submit.
"They are in the process of designing because it is a design-build. We feel somewhere in late October early November we should award a contract to start construction of this Central Block," Garcia said.
Health Minister Terrence Deyalsingh also said while there is no emergency with the building, out of an abundance of caution and to protect the safety of employees and patients at the hospital "we are in fact moving some patients from the upper floors come down to other facilities within the health care system."
Deyalsingh could not say how many patients would be shifted, as this responsibility lay in the hands of the chief medical officer in conjunction with the medical chief of staff.
"They will make those decisions as to who is to be moved and where they are to be moved."
However, a Ministry of Health source said yesterday that approximately 100 patients were likely to be temporarily shifted to the Eric Williams Medical Sciences Complex, Mt Hope and the Caura Hospital in the interim. The source said some patients bolted from the hospital on Tuesday and yesterday when the earthquake and aftershock struck.
Operations throughout the North Central Regional Health Authority (NCRHA) will resume fully from today, the T&T Guardian was told.
Speaking yesterday, an NCRHA official, who wished not to be named, said as a result of the earthquake, they cancelled all clinics and re-directed all clinical staff to the Accident and Emergency Department at the Eric Williams Medical
Sciences Complex in Mount Hope.
"All non-essential staff at the Administrative Building were sent home, however, all inspections are done and normalcy will be returned tomorrow (today)," the NCRHA official said.
All out-patients who were scheduled for respective clinics yesterday and who were deemed to be priority or critical were asked to return as doctors on duty promised to "double up."
Other out-patients were asked to also visit their respective clinics for the re-scheduling of their clinic dates.
Around the Web