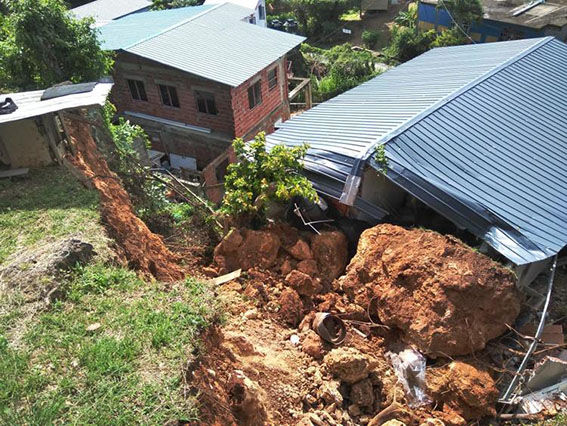 (Trinidad Express) A cancer survivor and her husband narrowly escaped being crushed by an avalanche of boulders and mud which crashed into their Laventille house on Sunday.
Hermie Morris, 67, and her husband, Joyle Morris, 69, ran out from the home when they heard a loud rumble.
Joyle Morris said his wife was in the kitchen when the land above their 20 year old house slipped away, and if he did not shout at her to get out, she might have been killed.
"It was a big crash. The stove, fridge, washing machine and everything are gone. This is very, very serious. The stones are in the kitchen itself. The living room is mashed up", said Joyle Morris.
The elderly couple has six children, and only a 45 year old son resides with them.
He had just gone to nearby shop with the avalanche occurred.
Joyle Morris said with the earthquake on Tuesday, only stones fell on the house and there was no damage.
But five days later, there was devastation.
Joyle Morris, a retired carpenter and mason, said he built the three bedroom concrete house almost 20 years ago.
Last year his wife was diagnosed with cancer and in May she underwent surgery which was deemed successful. Since then she consumes only fruits.
On Sunday she was in the kitchen "juicing" fruits when she heard an unusual noise.
"Some gravel fell on the house and she asked me 'You heard something fall?' I said 'no'. Then some gravel rolled down again. I told her to move out of the kitchen. If she has spent an extra second everything would have tumbled on her", he said.
Joyle Morris said the kitchen and living room were completely destroyed.
The bedrooms, bathrooms and porch were intact, he said.
He said on Sunday night his wife did not wish to leave their home and they spent most of the night in the porch area.
"My wife said she is not going anywhere, and I can't go and leave her. She is staying here so we slept on the couch in the gallery. After midnight she went into the bed. We got up about 6 o'clock this morning and we gave thanks to God that we were okay", he said.
Joyle Morris said that he has been visited by officials of State agencies such as the Office of Disaster Preparedness and Management, his local Government councillor and media.
He said he is unable to estimate the cost of the damage to the house.
"All of them told us that we should not be staying here. One shower of heavy rainfall and more might come down on the house. This is very hard for is. We are surviving", he said.
Around the Web