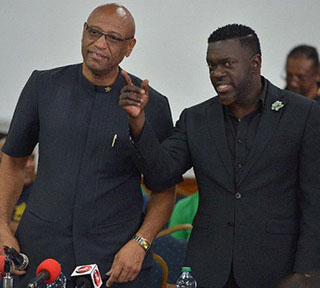 (Trinidad Express) Oilfield Workers Trade Union (OWTU) president, Ancel Roget, said yesterday the closure of Petrotrin's refinery did not instigate this Friday's intended day of "rest and reflection".
This is a piece of misinformation being peddled by Government, Roget said, to try to fool the nation into thinking that the union's call for workers around the country to stay home was sparked by malcontent over the decision to shut down the refinery.
Instead, Roget said the union's call to shut down the country on September 7 – the third anniversary in office of the People's National Movement (PNM) government, was made since Labour Day (June 19) this year and is based on Government's failure to keep a number of crucial promises.
The OWTU has found support from a number of unions, including the Trinidad and Tobago Unified Teachers' Association (TTUTA), which has called on parents to keep their children away from school on Friday.
At a press conference Tuesday morning in downtown Port of Spain, Roget said the Dr Keith Rowley-led administration has failed on several counts including controlling crime, strengthening the economy and doing right by labour.
He said the closure of Petrotrin's Pointe-a-Pierre refinery was an issue that cropped up after the call to rest and reflect had long been made but has been instructive as to Government's handling of the economy and  employment.
Roget disclosed that the OWTU will, on Monday, deliver to Opposition Leader, Kamla Persad-Bissessar, its proposal for the restructuring of Petrotrin.
That document was also delivered to Government not long after it took up office but has been ignored by the relevant authorities, the union has said.
The board of Petrotrin announced last Tuesday that as it looks to turn around the State-owned company's fortunes, the refinery must go as it has become a financial burden.
Around the Web