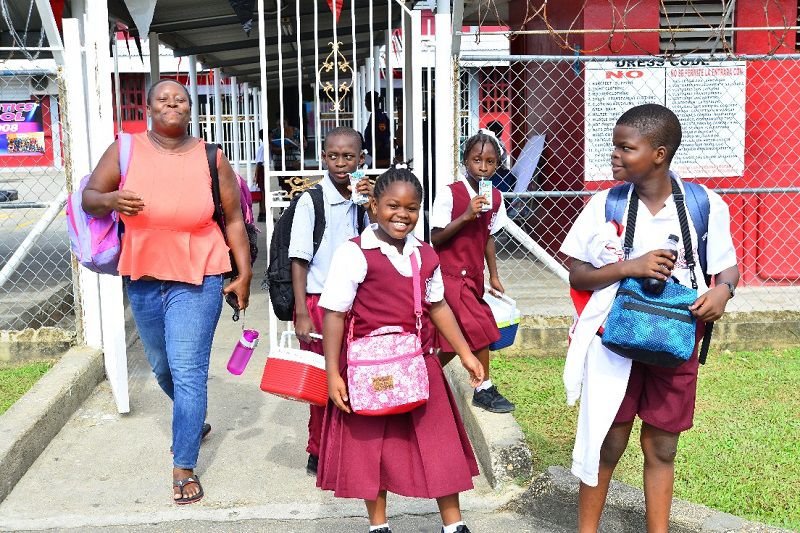 (Trinidad Express) Instructions by the labour movement for its members to recognise a day of "rest and reflection" yesterday seemed to have gone unheeded by workers in the public and  private sector.
The Ministry of Health reported a 100 per cent turnout of health care workers, while the Ministry of Education reported that the majority of teachers attended school today.
Minister of Public Administration Marlene McDonald said there was a 98 per cent attendance at her Ministry.
She said similar numbers were recorded across the Public Service.
"The two percent of absences at the Ministries of Public Administration and Communications accounted for persons who had previously applied for and were granted time-off," McDonald said. 
The Trinidad and Tobago Manufacturers Association (TTMA), Downtown Owners  and Merchants Association (DOMA) and the Cunupia Business Chamber also confirmed that it was business as usual among their membership today.
Ministry of Health/Education
At a news conference yesterday morning, Education Minister Anthony Garcia said across the seven education districts an average of 50 per cent of the nation's primary school teachers showed up for work today, while 52.5 per cent of secondary school teachers attended.
He said there was also a 100 per cent attendance of staff at the Ministry of Education.
Health Minister Terrence Deyalsingh in a statement yesterday  morning said he was happy to report that health care workers across all the country's Regional Health Authorities (RHAs) reported for work.
"This speaks volumes to the dedication of all our workers across the country, inclusive of Tobago. Today is a day where we have significantly matured as a nation, where we have heeded the call for productivity," he said.
"I want to commend all health care workers in every single RHA for manning their stations and providing care and sustenance to the sick, young and vulnerable in our country," Deyalsingh added. 
Business as usual across private sector
In a media release the TTMA noted that based on the feedback from its membership, the call for rest and reflection did not have the intended purpose, as workers reported for work.
"Our membership's feedback indicated that in most instances the turnout was nothing out of the ordinary in all areas of operations," it stated.
TTMA president Christopher Alcazar said:
"Workers have shown maturity and discipline and must be commended for their efforts. Their commitment to productivity and the greater good of moving the economy forward in our challenging environment is indicative that they are prepared to work together to move Trinidad and Tobago along a sustainable path of economic growth".
The Joint Chambers comprising the American Chamber of Commerce  of Trinidad and Tobago (AMCHAM T&T), the Energy Chamber of Trinidad and Tobago, the Trinidad and Tobago Chamber of Industry and Commerce and the Trinidad and the TTMA said it conducted a comprehensive survey of their members this morning. 
 It reported that 88 per cent of members stated that the "illegal strike" had no impact on their businesses, with ten per cent reporting a minor impact and only two per cent reporting a major impact. 
"Ninety percent of our members reported that their absenteeism rates were at normal levels, with 7% reporting a lower absenteeism rate than for a normal Friday in September.  This pattern was similar across sectors and for both unionized and non-unionized companies.  The pattern was the same for both state-owned and private companies," the Joints Chambers said in a statement.
The Cunupia Business Chamber reported that the unions' "rest and reflect day" did not hamper the business community of Cunupia and environs.
"There were no businesses closed and their employees were out in full numbers," the Chamber said.
"At the schools in the district, administrative staff was out in their full numbers, teachers' turnout was at 20 per cent and 11 per cent of students arrived at the various schools in the district this morning. The majority of parents opted to keep their kids away from the schools, causing all Government schools in the district to close around midday. In essence the 'rest and reflect day' was of no major significant impact to Cunupia and environs," the Chamber went on.
President of DOMA, Gregory Aboud, said he received no reports of absenteeism among the workforce in downtown Port of Spain.
 "It has been a pretty average day in the City Centre. We view the  decision to call for this day of rest and reflection as a natural part of the process of change and we accept the decision of those who think they have to stay at home today. We do not think it was the right decision to make, but we accept it and we move on to tomorrow, when we all have to make a living again," Aboud said. 
Do not panic buy, says NP
In view of the call for a national day of rest and reflection, the National Petroleum Marketing Company (NP) assured the public that the company has and will activate appropriate and various contingency measures across its operations, to ensure a continuous and reliable supply of fuel.
It urged the public not to panic buy.
NP said its priority continues to be that of ensuring the timely delivery of fuel to its service station network, airports in Trinidad and Tobago, industrial customers including the Port Authority, all hospitals and all the protective services.
"NP has detailed operational and communications plans in place to deal with a range of situations with a view to minimising disruptions and/or mitigating the impact of any disruption," NP said.
"These tried-and-tested contingency measures include, but are not limited to the deployment of NP's management and other support staff in addition to the monitoring and maintenance of key infrastructure and plants to continue its essential operations. Furthermore, NP has collaborated with other national agencies to ensure the reliable and continuous supply of liquid fuels and cooking gas to the local market," NP added. 
Normal operations says WASA/T&TEC
The Water and Sewerage Authority (WASA) and the Trinidad and Tobago Electricity Commission (T&TEC) said all operations were functioning as normal today.
"All 14 service centres are open to serve the members of the public, and our emergency lines, 800-BULB (2852) and 800-TTEC (8832), remain available to respond to all calls," T&TEC stated.
"The Water and Sewerage Authority (the Authority) advises customers and the general public that its systems are functional and services to customers are normal with respect to water and wastewater as well as its Ratepayers' Centres," WASA said.
"Preliminary assessment indicates close to full staff attendance and the Authority is currently collating data to confirm same," WASA added.
Around the Web