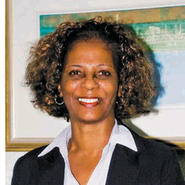 (Barbados Nation) Two years and six months after he was expected to be sentenced, Terry Cassius Seale was sentenced to 18 years in jail for manslaughter on Wednesday.
The 54-year-old tractor operator of 27 Groves Crescent, St George, had been originally charged with the brutal murder of Moreta Forde, a former corporate specialist of LIME between October 30 and 31, 2013.
Seale had admitted to the lesser count of manslaughter, after the prosecution accepted that Forde's response the night her former lover had challenged her on whether or not she had infected him with a fatal sexually transmitted disease was provocation. Despite the maximum penalty in Barbados for manslaughter being life in prison, Justice Jacqueline Cornelius said she believed a starting point of 25 years was reasonable, and added a further two years as a result of the aggravating factors in the No. 5 Supreme Court.

However, she took into account that Seale had spent 1 776 days on remand, adding he had a further 4 794 days left on his sentence. As a result, Justice Cornelius gave him a one third discount, settling on the final 18-year sentence. Justice Cornelius in passing sentence said the act had been committed at the home of the deceased, she had been defenseless and had received extensive injuries to her back, neck and head.
"This was a domestic dispute and offenders cannot escape with impunity," she said. She added that although the evidence showed Seale had been provoked, he was the physical aggressor and the force used was "grossly excessive". The only mitigating factors, she said, were that it was a spontaneous incident; he had been provoked by the passing of a sexually transmitted disease and had pleaded guilty to manslaughter.
During the trial, it was revealed Forde and Seale, her gardener, were in an intimate relationship at the time of her demise. While she resided at Fisherpond, St Thomas, she had allowed him to stay at her second home in St George, after his home was damaged by Hurricane Tomas.
During the relationship, Seale came to believe his lover had infected him with AIDS, and had confided such to at least two people. When he confronted Forde on the night of her death, she had queried whether he expected to "play with dogs and get a shark". Her statement seemed to enrage him, and he took up a fruit knife which they scuffled over before Seale brought it down slashing Forde's throat.
Forde held on to Seale trying to prevent him from leaving her, but he wanted her to release him so he took a nearby cutlass and further injured her. He then lit a cigarette, dropping the lighter, and leaving the house. In the end, the house was engulfed.
Seale remained on the run for three and a half months before he was spotted by police in February 2014 trying to use the village standpipe in Easy Hall, St John. At the time, he had told officers he had ingested a poisonous substance and was taken to the Queen Elizabeth Hospital before he was charged.
Around the Web