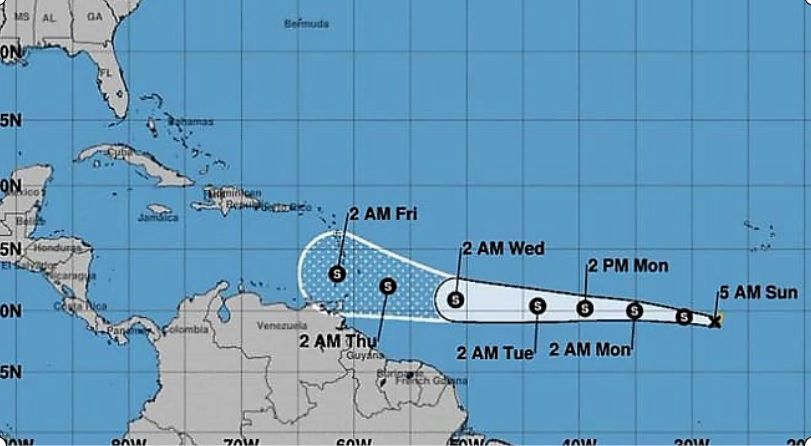 (TRINIDAD EXPRESS) The Ministry of Rural Development and Local Government (MRDLG) along with the fourteen Municipal Corporations are closely monitoring the development and path of Tropical Storm Kirk.
Trinidad and Tobago currently falls within the forecast cone of the Tropical Storm, which has moved the Disaster Management Units (DMUs) to begin preparations in the event that it reaches our shores later this week.
These preparations involve the dissemination of a Time Phase Schedule from the Senior Disaster Management Coordinator (Ag.) at the Ministry,  Jerry David, to all Disaster Management Units, which outlines the steps to be taken from 100 hours prior, to the time a storm or hurricane makes landfall.
DMUs are currently updating inventory of response equipment and relief items to ensure that an organized and efficient effort can be launched, if necessary.
Minister of Rural Development and Local Government Kazim Hosein proffered a message of preparedness and prayer saying, "We may not be affected by this Tropical Storm, but we must do what we can to safeguard our loved ones and homes. I encourage people to take note of the Disaster Management Hotlines that are in place for emergency use, to keep monitoring the news to be informed of further developments, and to put together their emergency kits with reserves of water and other necessities in case they are needed.
Along with the rest of the nation, I pray that we are not affected, and hope that the system weakens and veers away from the island chain altogether, but the DMUs and the Ministry are getting organized just in case."
NOTE: The country is not under a Tropical Storm Watch/Warning at this time, but urge the public to monitor official weather reports in the coming days.
Around the Web