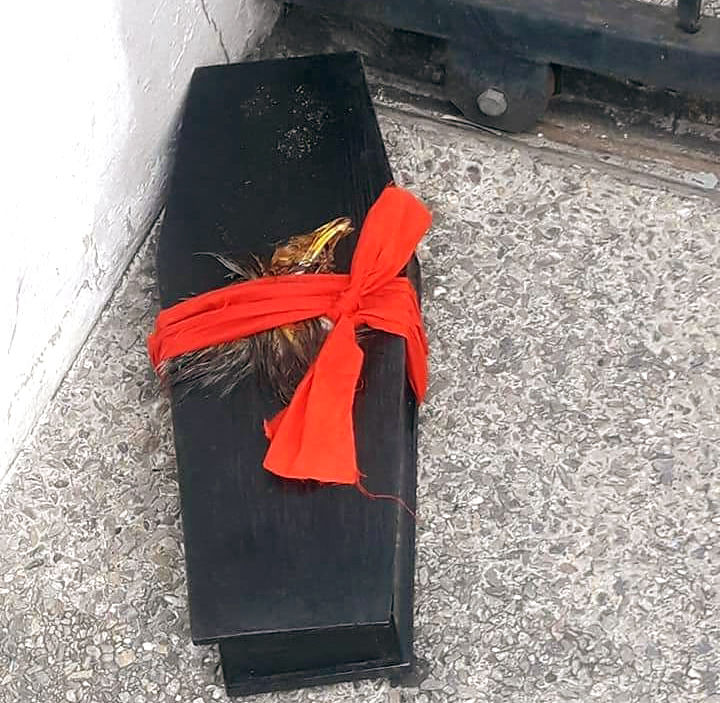 (TRINIDAD EXPRESS) About that black coffin that was discovered outside the Port of Spain Magistrate Court early this morning with a dead bird on it and wrapped with a red ribbon.
Who left it there and for what purpose?
It has happened before that toads with lips sewn shut with thread and a written message left in the mouth, have been left on courtroom steps and entrances.
The purpose, according to the those who believe in the black magic, is for the accused to get a favourable verdict in the case.
Spiritual leader and herbalist Trevor Sayers gave his own interpretation on the con-tents.
"It is some sort of sacrifice or it is about some law that is about to be abolished. The bird deals with law and changing of time and symbols. A coffin represents marriage. Normally we say death but it is a marriage" was his opinion.
And he had a prediction.
"I am seeing that it will have a death next year of someone particularly in high au-thority. I think it might be an ex-president or ex-prime minister. It could even be someone currently sitting in this country."
Around the Web