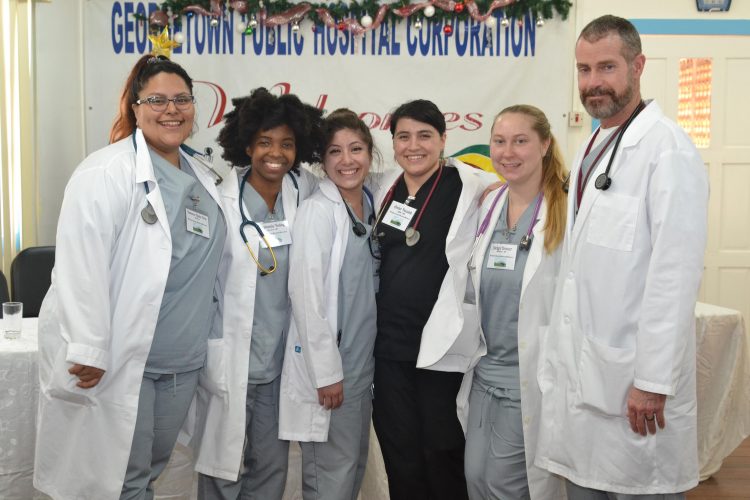 Texas State University respiratory care students who are in Guyana on a Study Abroad Programme are spending time at several institutions, according to a release from the Department of Public Information (DPI).
The five respiratory care students, five mass communications students, and two respiratory therapists were attached to the Georgetown Public Hospital Corporation (GHPC) practising what they have learnt in respiratory care. The team has been working in the Accident and Emergency Unit, the Emergency Intensive Care Unit and the Asthma and Spirometry Unit of the GPHC. Heading the team in Guyana, Professor Sharon Armstead, Respiratory Therapist and Clinical Education Professor at the Texas State University said, with this team's visit to Guyana, they hope to spark enough interest to have the government move towards instituting such a programme in the country.
"We feel we can add to this health care system as respiratory therapists, our goal is for Guyana to see the value of the respiratory profession and in the not too distant future, develop a respiratory care course at UG (University of Guyana)," Professor Armstead said.
The Texas State University at which Professor Armstead lectures, offers a four-year degree programme in respiratory care. Students in this course will learn general practice, with two years to focus on specialising in Pulmonary Care. After that, 1,000 clinical hours are dedicated to the career path of respiratory care.
The team is expected to travel to Linden today, where they will conduct asthma screening at the MacKenzie High School and they will also be attached to the Linden Hospital Complex for a period.
Meanwhile, as their work in Guyana is expected to contribute to the local respiratory care offered, Professor Armstead has indicated that spirometry tools will continually be donated to Guyana through the Bridges Global Medical Mission.
The Professor said, "You can't diagnose asthma and COPD (Chronic Obstructive Pulmonary Disease) unless you have the tools… we were able to purchase two of the diagnostic tools, the spirometers and we plan to donate that to Guyana… those are the kind of tools (that are needed) and we plan to donate more".
The mass communications students are a part of the documenting and detailing story of the first respiratory care study abroad programme in Guyana.
Comments


The National Accreditation Council of Guyana (NAC) is advising the public that the American Medical Institution is not registered with the NAC as is legally required for post-secondary and tertiary educational institutions operating in Guyana.

Fifteen city councillors voted yesterday in favour of accepting the recommendations of the parking meter renegotiation committee, which would see a reduction in parking fees to $150 per hour, exemptions for religious organisations and schools, and Smart City Solutions (SCS) giving up on their claim to garage parking.

A GDF rank was yesterday remanded to prison over three armed robbery charges and alleged possession of an unlicensed gun and ammunition.
Minister of Natural Resources and Leader of the Alliance for Change (AFC), Raphael Trotman on Monday praised ExxonMobil for investing in the oil sector here and said it is now resulting in other important companies wanting to do business here.

The city lance corporal, who on Sunday allegedly shot and killed Marlon Fredericks, a mentally-challenged vendor, after he reportedly attempted to flee custody is to be charged with manslaughter.