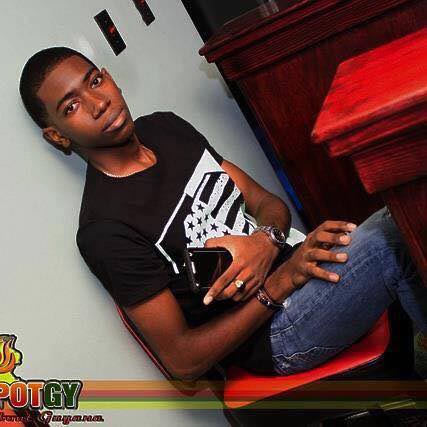 The young manager of the Korner Kick Restaurant and Bar was found dead in his Garnett Street, Newtown, Kitty home yesterday morning with a single gunshot wound to his head and police are treating his death as a suicide.
Dead is Tevin Parris, 21, of Lot 66 Garnett Street, Kitty, Georgetown, who managed the Bent and Lime streets, Georgetown business despite his young age.
Stabroek News was told that Parris' lifeless body was discovered in a bedroom located in the upper flat of his house by a relative around 8.20am yesterday.
Commander of 'A' Division Marlon Chapman yesterday told Stabroek News that the police are currently treating the youth's death as a suicide.
Chapman confirmed that a gun was found next to Parris' body. He said the police were trying up to yesterday afternoon to ascertain the owner of the firearm as Parris was not a licensed firearm holder.
When this newspaper visited the scene, a large crowd, including relatives and friends of Parris, gathered in disbelief.
Detectives also cordoned off the entrance to the house as they proceeded with their investigation.
'They kill my son'
Parris' mother, Natasha Bernard, was heard wailing loudly, "They kill my son!"
While police suspect suicide, the youth's relatives believe that he was murdered and they called for a thorough investigation. "They got to investigate that again," Bernard cried.
The woman told reporters that her son had no reason to take his own life.  "My son was bought up [in] a god fearing life and even when I am stressing he does comfort me," she said. "Suicide? Never! Never!" she exclaimed.
"Money is not an issue. He was running his family business. He had Visa again and he aint even want travel. Meh son ain't got no problem. I would be the disgusting one. He does always be there to comfort somebody or help somebody," the inconsolable woman said. "I lost his father and I get by, but now if you tell me is robbery I gone say yes but suicide never…there is a living God," Bernard added.
Bernard did note that her son never shared much about his life to his family. "He doesn't say a lot. He is an introvert," she said.
An uncle who made the discovery, briefly said that he was about to visit Bernard as was customary when he discovered his lifeless body.
Parris occupied the house with his grandfather, who was not home and only visited upon receiving the news of his death. Sections of the house are currently being renovated.
Parris was said to be part of the Golden Smile Family promotion team, which hosted a flashback party last Saturday at the National Park.
Comments

For the limited reopening of the Skeldon and Enmore sugar estates next month, government is in the process of borrowing some $10B to 15B from local commercial banks here, Minister of Finance Winston Jordan says.

A 38-year-old electrical contractor narrowly escaped death yesterday after he was shot and robbed of $600,000 by two motorcycle bandits who trailed him from a bank before cornering him at his Enmore, East Coast Demerara (ECD) worksite.
Guyana has registered its highest score on the Transparency International (TI) Corruption Index Report but even with a mark of 38 and ranking at 91 out of 180 countries it is still viewed as a very corrupt country.
Guyana's appeal over the constitutionality of presidential term limits will now be heard on March 12 by the Caribbean Court of Justice (CCJ), according to the Trinidad-based court's schedule of sittings.

Despite GWI's Managing Director, Richard Van West-Charles arguing strongly for tariff increases, the Public Utilities Commission (PUC) yesterday insisted that the accounts of the utility be presented for examination.