A police vehicle was yesterday destroyed in a fire in the Sisters Police Station compound in Berbice.
Stabroek News was told that the vehicle, PMM 9646, which is attached to the Sisters Police Station was completely destroyed by the fire of unknown origin.
According to information gathered, ranks parked the vehicle in the compound in front of the Sisters Magistrate's Court and ventured into the police station. However, moments later  neighbours saw flames emanating from the vehicle's engine.
One resident who resides next door to the station told Stabroek News, that "Them had neighbourhood police and police in them uniform in the station and them run out". The resident noted, that the fire brigade was immediately summoned, while ranks with the assistance of residents formed a bucket brigade. However, before fire fighters arrived the entire vehicle had been engulfed in flames.
The resident around 8 pm last night told Stabroek News, "Them out it now, just the vehicle shell lef, it on its rims, the glass window everything destroy, the speakers everything in the vehicle man".
An investigation has been launched to determine the cause of the fire.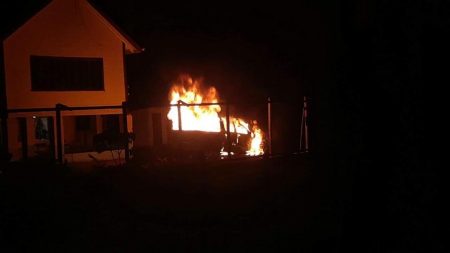 Comments
The police say they are investigating a shooting incident which occurred about 11:20 am today at Leopold and Breda streets, Charlestown during which shop owner, Jacqueline Lagnah, 55, of 83 Leopold and Breda streets, sustained two suspected gunshot injuries to her lower back.

CARACAS/SAN CRISTOBAL, Venezuela,  (Reuters) – A wave of looting by hungry mobs across Venezuela has left streets of shuttered shops in provincial towns and pushed some store owners to arm themselves with guns and machetes, stirring fear that the turmoil could spread to the capital Caracas.

Taariq Stephens (New York Daily News photo) A Brooklyn man got a 41-year maximum prison sentence yesterday for killing a 16-year-old Guyanese girl who authorities said rejected his advances.

PRETORIA,  (Reuters) – Debutant Lungi Ngidi took six wickets as South Africa defeated India by 135 runs to claim victory in the second test in Pretoria today and also win the series with an unassailable 2-0 lead in the three-match contest.

(Trinidad Guardian) Environmental activist group Fishermen and Friends of the Sea (FFOS) has obtained an interim injunction barring the Government from continuing work on the first phase of the $400M Churchill Roosevelt Highway Extension to Manzanilla.