An accident at the junction of Sheriff Street and the Rupert Craig Highway left over a dozen persons with injuries yesterday.
The accident occurred around 1 pm, when the Route 44 minibus driver lost control of his vehicle, BWW 1243, while allegedly speeding  along the highway.
Some 16 persons were said to have been injured as a result and they were taken to the Georgetown Public Hospital for treatment by public-spirited citizens and an ambulance.
The driver and others suffered broken bones and lacerations about their bodies. Some persons were treated and discharged, while others were admitted.
Stabroek News was told that the driver was proceeding east when, in an attempt to jump the traffic light at the Sherriff Street junction, he tried to overtake a canter and clipped it, resulting in him losing control of his vehicle.
The minibus toppled several times and cleared a drain before landing on a parapet, several lots away from the point of impact.
The driver of the canter was taken into police custody for questioning as part of the investigation of the accident.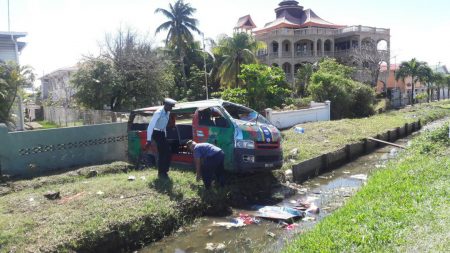 Comments

The chairman of Trinidad's transparency group says that it  is imperative that an independent third party check revenues from the company extracting oil and the subsequent flows to the government.
Even as ExxonMobil announced that it doesn't expect to pay any corporate taxes to the Australian government until 2021 after an already five-year tax hiatus, the company has  been accused of generating billions in revenue in that country  but using subsidiaries in a scheme designed to avoid paying its dues.

In the wake of the state-owned Guyana Chronicle's termination of David Hinds and Lincoln Lewis as columnists, WPA executive member Tacuma Ogunseye says that party should urgently put on its agenda whether it should stay in the APNU alliance and the coalition government.

President of Transparency Institute of Guyana Inc (TIGI), Troy Thomas says he believes that it was pressure from the people that saw "the unprecedented" release of oil contracts by the government.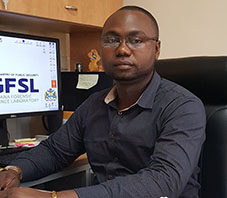 The Guyana Forensic Science Laboratory (GFSL) has spent a substantial amount of time training police investigators in various aspects of evidence collection and submission and this has resulted in a significant improvement in the quality of samples sent for testing, the facility's Director Delon France says.