An accident at the junction of Sheriff Street and the Rupert Craig Highway left over a dozen persons with injuries yesterday.
The accident occurred around 1 pm, when the Route 44 minibus driver lost control of his vehicle, BWW 1243, while allegedly speeding  along the highway.
Some 16 persons were said to have been injured as a result and they were taken to the Georgetown Public Hospital for treatment by public-spirited citizens and an ambulance.
The driver and others suffered broken bones and lacerations about their bodies. Some persons were treated and discharged, while others were admitted.
Stabroek News was told that the driver was proceeding east when, in an attempt to jump the traffic light at the Sherriff Street junction, he tried to overtake a canter and clipped it, resulting in him losing control of his vehicle.
The minibus toppled several times and cleared a drain before landing on a parapet, several lots away from the point of impact.
The driver of the canter was taken into police custody for questioning as part of the investigation of the accident.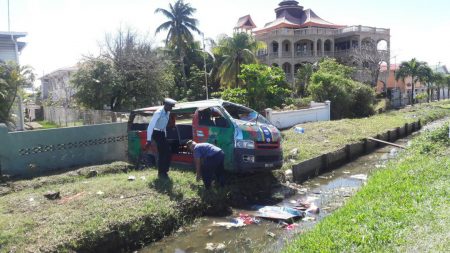 Comments

Four weeks after passing a $267 billion budget for 2018, the National Assembly will debate a supplemental provision of $1.75 billion to meet a portion of the severance pay for around 4,000 sugar workers.

Autopsies performed on the bodies of Ambrose Baharally and Martin Godette, the Pomeroon farmers who were shot dead on Sunday, have found that both men died from gunshot injuries to the head.

The ground-breaking Whistleblower Protection Bill was passed in the National Assembly last evening without amendment, although there was opposition to the formulation of a commission to act as the governing body.

The preservation of land assets is essential to the creation of a green state and a good life for future generations, President David Granger said yesterday at the launch of a US$15M Sustainable Land Development and Management Project.

Contending that the previous administration failed to find sustainable ways to restructure the security sector and identify the root causes of crime, President David Granger yesterday said that government's determination to resuscitate the UK Security Sector Reform Action Plan (SSRP) is part of its efforts to take corrective action.