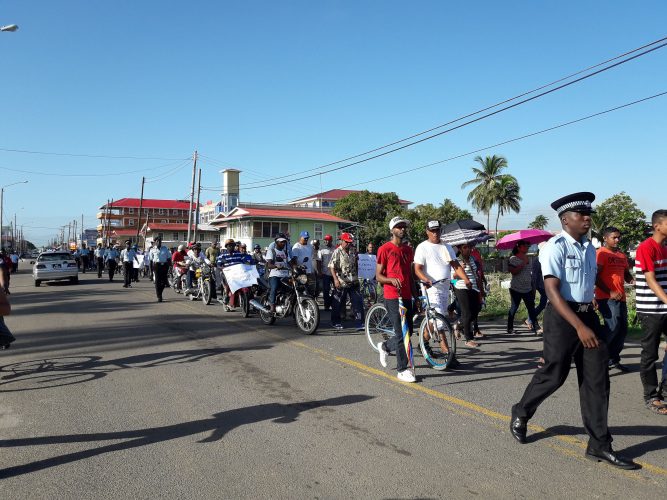 At a protest held in Skeldon, Upper Corentyne yesterday, the President of the Guyana Agricultural and General Workers Union (GAWU), Komal Chand called on the government to "respect the law" and pay thousands of laid-off sugar workers their full severance.
With the government coming in for heavy flak over the severance, President David Granger on Wednesday announced to the nation that half would be paid by the end of this month and the other half in the second half of this year.
Chand, addressing the former sugar workers and their relatives, stated that the government's announcement on Wednesday is in violation of the law.  He told the protestors, "When you become redundant you are entitled to your severance pay…It is your legal right", to receive severance pay.
He further added that the President of the country ….
To continue reading this article
Comments

Four weeks after passing a $267 billion budget for 2018, the National Assembly will debate a supplemental provision of $1.75 billion to meet a portion of the severance pay for around 4,000 sugar workers.

Autopsies performed on the bodies of Ambrose Baharally and Martin Godette, the Pomeroon farmers who were shot dead on Sunday, have found that both men died from gunshot injuries to the head.

The ground-breaking Whistleblower Protection Bill was passed in the National Assembly last evening without amendment, although there was opposition to the formulation of a commission to act as the governing body.

The preservation of land assets is essential to the creation of a green state and a good life for future generations, President David Granger said yesterday at the launch of a US$15M Sustainable Land Development and Management Project.

Contending that the previous administration failed to find sustainable ways to restructure the security sector and identify the root causes of crime, President David Granger yesterday said that government's determination to resuscitate the UK Security Sector Reform Action Plan (SSRP) is part of its efforts to take corrective action.