A Venezuelan national, who was among the women held after a raid on the Diamond Hotel and Bar on George Street, Georgetown, was charged in a city court on Wednesday with entering the country illegally.
However, Maria Manchego pleaded not guilty to the charge and she was released on $20,000 bail.
The charge states that Manchego on September 20th, 2017, at Lethem, entered Guyana by crossing a land frontier and did not present herself to an immigration officer.
In pleading not guilty, Manchego stated that she had presented herself to immigration but that the officers did not want to stamp her passport.
The prosecution's case is that on September 20th Manchego came to Guyana through Lethem by crossing a land frontier and did not present herself to an immigration officer. She was arrested last Friday, when the police conducted a raid at the Diamond Hotel and Bar. She was asked to present her passport and police then discovered that she did not have an entry stamp.
Chief Magistrate Ann McLennan placed Manchego on $20,000 bail with the condition that she report to the Criminal Investigation Department headquarters every Friday until the completion of her trial. The matter has been adjourned until February 12th, when it will be heard at the Lethem Magistrate's Court.
Comments

The chairman of Trinidad's transparency group says that it  is imperative that an independent third party check revenues from the company extracting oil and the subsequent flows to the government.
Even as ExxonMobil announced that it doesn't expect to pay any corporate taxes to the Australian government until 2021 after an already five-year tax hiatus, the company has  been accused of generating billions in revenue in that country  but using subsidiaries in a scheme designed to avoid paying its dues.

In the wake of the state-owned Guyana Chronicle's termination of David Hinds and Lincoln Lewis as columnists, WPA executive member Tacuma Ogunseye says that party should urgently put on its agenda whether it should stay in the APNU alliance and the coalition government.

President of Transparency Institute of Guyana Inc (TIGI), Troy Thomas says he believes that it was pressure from the people that saw "the unprecedented" release of oil contracts by the government.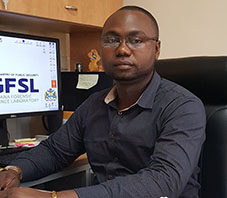 The Guyana Forensic Science Laboratory (GFSL) has spent a substantial amount of time training police investigators in various aspects of evidence collection and submission and this has resulted in a significant improvement in the quality of samples sent for testing, the facility's Director Delon France says.